Discover more from ReelScotland
A free newsletter covering Scotland's screen sector.
Cameraman: The Life and Work of Jack Cardiff
His life really is the history of cinema in the Western world. He worked for ninety years almost continuously and he crossed paths both technically and with big stars. He was there at the start of colour in Europe, he was there when Pressburger made some of the greatest films so Jack really is the story of cinema. Craig McCall " Director, Cameraman: The Life and Work of Jack Cardiff.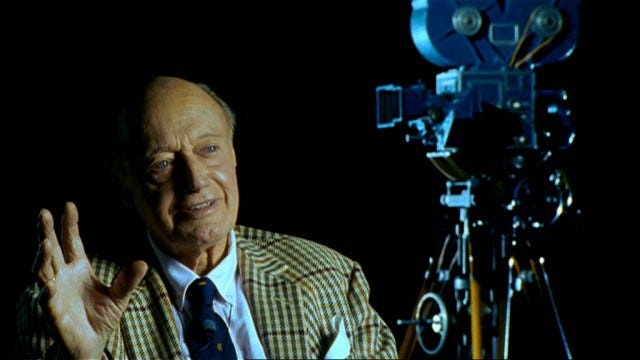 British born cinematographer Jack Cardiff is most known for his work with Powell and Pressburger which included 1947's Black Narcisuss, for which he won an Oscar.His career spanned almost a century from A Matter of Life and Death in 1946 to Rambo First Blood Part II in 1985, working with all the technological filmmaking advancements through that the time to great effect. Cardiff also worked with other greats such as Alfred Hitchcock and John Huston on The African Queen, while Martin Scorsese proclaims him as his favourite cinematographer. Cardiff died aged 94 in April 2009.
Fresh from a screening at the Cannes Film Festival, Scottish filmmaker Craig McCall sat down with ReelScotland to discuss Jack's career as a filmmaker, the pair's friendship and how he came to work on his cinematic celebration of Cardiff's work.
ReelScotland: How did you first meet Jack?
Craig McCall: I kicked off my career doing music videos. It was the early nineties and EMI had a whole department doing films and they got Jack in to shoot Vivaldi's Four Seasons. I was sitting at a table with a little 16mm hand cranked camera and Jack was looking at it and obviously knew about it. He wanted to go out to Venice to shoot straight away, but they didn't have the money yet so he ended up borrowing the camera and heading out to Venice. I thought it was amazing, here was this guy in his eighties but who had all the enthusiasm and curiosity of a twenty-one year old.
I'd be chatting to him for ages, he was a great guy to have a chat with. In the same couple of sentences he can refer to Marlene Dietrich and then fast-forward to Sylvester Stallone, there's no one I've ever met that can do that. When I would tell other people about the stories they would like them too. That got me thinking: If I like them and they like them second hand I should really get this down on film, so that's how it began.
When did you then decide to make the film?
It was about a year after [the initial meeting]. Jack came back in to do another classic piece and he gave me bits and pieces oh his manuscript and I found them really fascinating and I said, Let's try and do a pilot. I'd always been working independently in tandem with my commercial work so I touted it around a bit, but I couldn't manage to get anybody. I didn't want to do a documentary with voiceovers and broadcasters were very nervous about that. I said, Look, I'll get people who've worked with him through all the decades, and it seemed like a big one. After that I managed to get some independent money, but I was very aware of the age group.
I'm glad I did start filming because the likes of John Mills weren't around for that much longer. It was important and the clock was ticking because of the age of some of the subjects. I started filming it in bits and pieces over the next two years up until Jack getting the honorary Oscar in 2001. I thought that was it and I'd get the money to finish it, but it was just so difficult. It didn't happen and went on for years and years until recently.
Was he hesitant at all?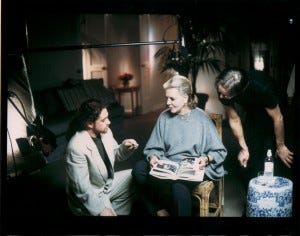 Initially yes, because people had approached him before. A couple of people have tried to do films on him before but pulled them off. He saw the pilot I did and he saw how people reacted to it, and he pretty much trusted me enough and that's when we started the main filming. He gave me access to all his pictures and paintings and drawings which added up to a very rich visual tapestry. We became quite close " it's not like I was popping around for tea al the time, but he did definitely trust me. He had to, or I wouldn't have been able to tell the story the way I did.
Jack was a great raconteur. Of course he was a top cinematographer, that was a given, but that's not enough. Jack was a really easy going guy who loved telling stories, and he had some great stories. That helps you on the journey with him. Sometimes people think they are going to see a dry documentary about a cameraman at work, but that's not what the film is about at all. We smuggle in all these great stories through the journey of Jack's life.
In total it took almost twelve years to complete the film; how stressful was it committing so much time to the project?
Yes, it was a lot of stress. It was bit like building a house with no roof on it. Everyone's looking at it from the street thinking that looks great, but you couldn't walk in to it. It was a bit torturous I have to say. Independent filmmaking is not for everyone, you have to be very persistent. In the end I felt I had to tell Jack's story, I knew people would like it. The upside is it's exactly the way I wanted it to be and it's in the cinema.
You managed to interview an amazing list of people like Kirk Douglas and Martin Scorsese; how did you get them on board?
It was all Jack. They all respected him so much. With Kirk, he had just had a stroke so we crossed him of the list. We made a few trips back and forth [to complete other interviews] and then we got this call telling us Kirk wanted to do it. It was amazing. It was all testament to Jack and his work.
What do you think Jack would have made of digital filmmaking and the likes?
Well when Jack returned to making films in the eighties with Conan etc, he was still painting on glass. [Shortly before his death] He shot a dream sequence in HD and loved that he could see such a crystal clear image. He was very forward thinking and he would have loved to work on something like Avatar. I once asked Jack what modern stuff he liked and he said Billy Elliot because it had such simple lighting. Jack was a great believer in the single light.
Were you disappointed that Jack didn't get the finished piece before he passed away?
He saw a 90 minute edit with his good friend Dick [Richard] Fleischer. There is a scene at the start when Jack says, He's dead, she's dead and he didn't like that, but I kept it in anyway. Then when he seen the audience laugh he was okay about it. He was amazed that people laughed at his jokes!
Do you have a favourite piece of work by Jack?
I have such a soft spot for A Matter of Life and Death. Alan Parker said, There are films you see as a kid and films you see after you're aware of film. For me, A Matter of Life and Death was one of those I watched before I was aware of films.
Cameraman: The Life and Work of Jack Cardiff is showing in selected cinemas now, please visit http://www.independentcinemaoffice.org.uk/cameraman-playdates.htm for details. The DVD is released on July 19th
The Jack Cardiff season begins Tuesday 15 June at the GFT. For more details check the GFT site.