Centurion: Cast & Crew Interviews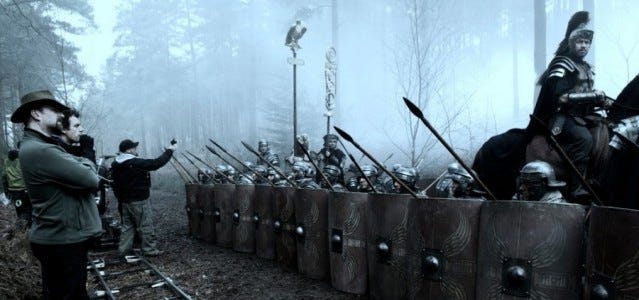 The creator of Dog Soldiers and The Descent, Neil Marshall returns to the big screen this weekend with bloodthirsty Roman epic, Centurion.
ReelScotland got the chance to speak to director Marshall, along with stars David Morrissey and Axelle Carolyn about the film's creation, the training involved for their roles and surviving the sub-zero Scottish shoot.
Set In AD 117, Centurion tells the myth of the legendary Roman Ninth Legion who are on a mission to wipe out the Picts and kill their leader, Gorlacon (Ulrich Thomsen). The Legion is joined by Quintus Dias (Michael Fassbender), a survivor from a Roman frontier fort that the Picts raided. After the majority of the Ninth are wiped out, what follows is essentially a chase movie as the remaining members of the Ninth are hunted down by their vicious adversaries.
"I had the script completed before we started Doomsday, but I'd actually had the idea about three years earlier," explains Marshall who returns to the director's chair following the disappointing critical response of Doomsday in 2008.
While it could be argued that Marshall was simply experimenting with Doomsday, there's no denying his credentials as an exciting director. Dog Soldiers has become a cult favourite while The Descent is widely regarded as being a classic of the horror genre.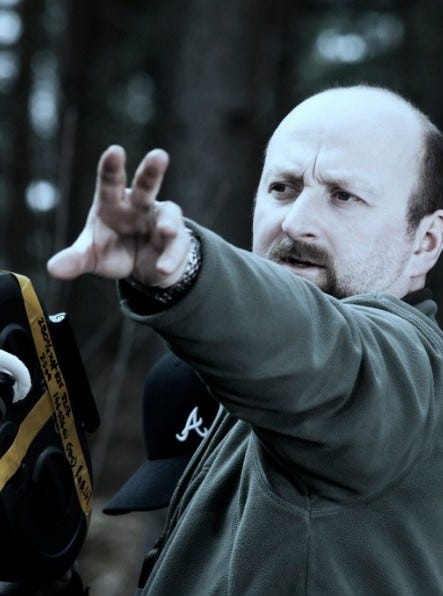 The true story of the Ninth Legion is still unknown. While various theories exist, the events are shrouded in mystery and this played directly into Marshall's hands: "There's only so much you can do as it's a myth. The thing is, I was trying to make an adventure movie not a documentary."
Like all of Marshall's previous films there is a strong Scottish connection. Dog Soldiers was set in the Highlands, certain scenes from The Descent were filmed in Scotland, while Doomsday saw Hadrian's Wall rebuilt and Scotland quarantined due to a deadly virus. "I've been going there all my life," explains Marshall, "I get a lot of inspiration from the Highlands."
David Morrissey, who takes on the role of Roman soldier, Bothos, again sidesteps the danger of being typecast by continuing in diverse roles. "I always like roles that I feel I haven't done before. I get bored very quickly so mixing up the roles and genres is important to me. I think every little boy dreamt of doing a film like Centurion.
"When I was a kid I loved the big epic films like Spartacus and The Vikings. So it was such a buzz to do a film like this," states Morrissey. "I liked the chase element of the film. The other movie I really liked as a kid was The Warriors, which of course was based on a Greek legend, and this reminded me of that a bit. I also really wanted to work with Michael Fassbender and Dominic West, both of whom I'm a big fan of."
In February last year, temperatures in parts of the Highlands plunged as low as minus 18C (0.4F) - according to a tweet to ReelScotland on Twitter, Noel Clarke, who plays Macros, claimed his testicles had "frozen off", but thankfully "they grew back" later.
Axelle Carolyn, who plays Pict warrior Aeron, elaborates: "Olga (Kurylenko) and I were wearing skin-tight leather clothes but underneath we had three layers of thermals, thankfully.
"The other thing that helped was the horses, they help keep you warm somehow. Thing is, when you are shooting a scene you never feel the cold because of the adrenaline, but the second they say cut, God it was freezing!"
Morrissey elaborates: "The conditions were tough but beautiful. It's a wonderful part of the world and although it was freezing cold, the scenery was breathtaking and I loved being on those mountains every day. It's a little known fact that the Romans actually invented thermal drawers, so we weren't inauthentic in our undergarments!"
Whether it is running barefoot over the snow covered mountain tops or crawling through a gorge, the actors were constantly pushed to the extreme. Does Centurion's director think his cast's performance was helped by being under such strain? "I think it can in a way, you don't have to worry about them faking pain. It wasn't cold, it hurt."
The film features an impressive ensemble; Alongside Carolyn and Morrissey, the film features Michael Fassbender, Olga Kurylenko, Liam Cunningham, Noel Clarke, Riz Ahmed and Dominic West as Roman leader general, Virilus. "It was fantastic," state Marshall, "We were very lucky with some of the timing, especially Michael Fassbender, but it was great."
Carolyn agrees. "[It was] awesome. There was a great atmosphere on set. We all got to know each other quickly in the beginning because we were shooting on location, so we would all hang out together at the hotel in the evenings. I should add that the crew was exceptional too.
"Honestly, when a shoot is that cold and uncomfortable, it makes a huge difference to be surrounded with people who take of each other and are fun to hang with.
"Michael is wonderful," continues Carolyn. "I always say it's a good thing he's such a great guy to hang with because otherwise, as he's so good at everything, it'd be kind of frustrating. He speaks several languages, can do accents, is great at physical scenes and he's just effortlessly good. Plus, he does a great Christopher Walken impression!"
Sword fighting and horse riding is essential for any Roman movie and Centurion is no different. Unless the actors are members of a battle reenactment group, the chances of them having armed combat on their CV is slim.
"Training for the film was pretty tough because we only had a few weeks, as opposed to months, and I'm not naturally the strongest person," divulges Carolyn. "The main thing was that I started training at the gym five times a week and getting horseback lessons. The gym wasn't so much to change my physical appearance as it was just to give me the strength to shoot action scenes or be on horseback every day for six weeks.
"It was really important to learn not to get too exhausted too fast because tiredness, plus extreme cold, equals illness. In addition to that just before and during the shoot I did some archery and fight training."
Elsewhere, Morrissey also got in on the action scenes. "We did endless fighting rehearsals and the stunt guys were the real heroes as always. They taught us our routines and took the blows in all the fight scenes. I loved the physical side of the film and we would all head for the bar...sorry the gym after filming every night."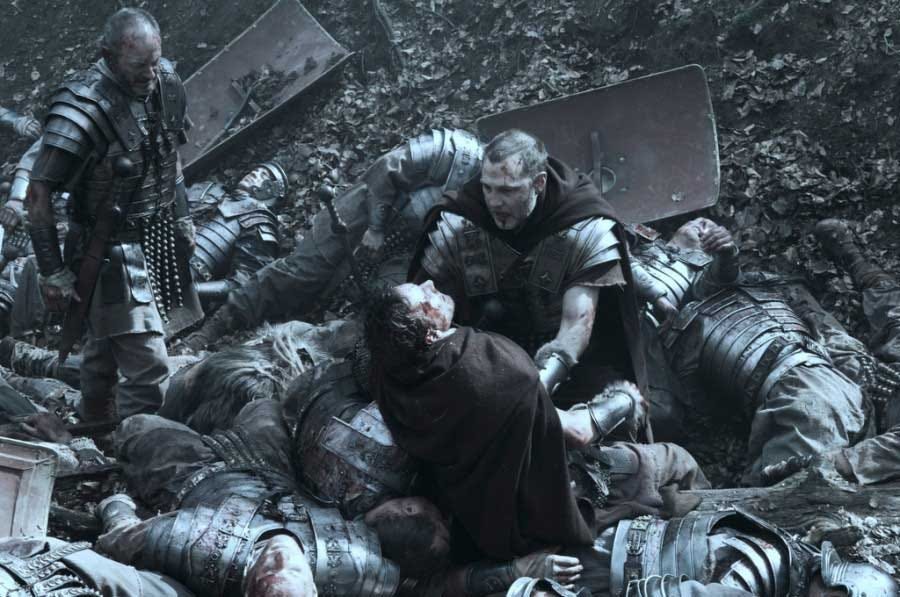 Was Morrissey aware of Marshall's apparent penchant for putting actors through hell?
"I wasn't that aware of Neil's other work but he was great to work with on this. Although when we were up in the Scottish hills I felt he could have shown a bit more solidarity with the cast and taken his North Face jacket off and put on a leather skirt like the rest of us," remarks Morrissey.
But how about the husband and wife team? Marshall and Carolyn are a married couple, but this is the first time they have worked together on set.
"Neil and I are used to working together, whether I read his scripts or he helps me with mine. We know pretty well how each other work. Neil is also one of the calmest, most quietly confident directors you can find. He knows exactly what he wants, but he's open to ideas, and he never, ever loses patience or panics."
It's usual for Neil Marshall films to possess a strong female presence. The cave diving group in The Descent were made solely of women, while Rhona Mitra portrayed the heroine in Doomsday. This pattern is repeated in Centurion with Olga Kurylenko's role of mute Pict, Etain. Both Kurylenko's and Axelle Carolyn's Pict characters break the mould in the way females are portrayed in action films.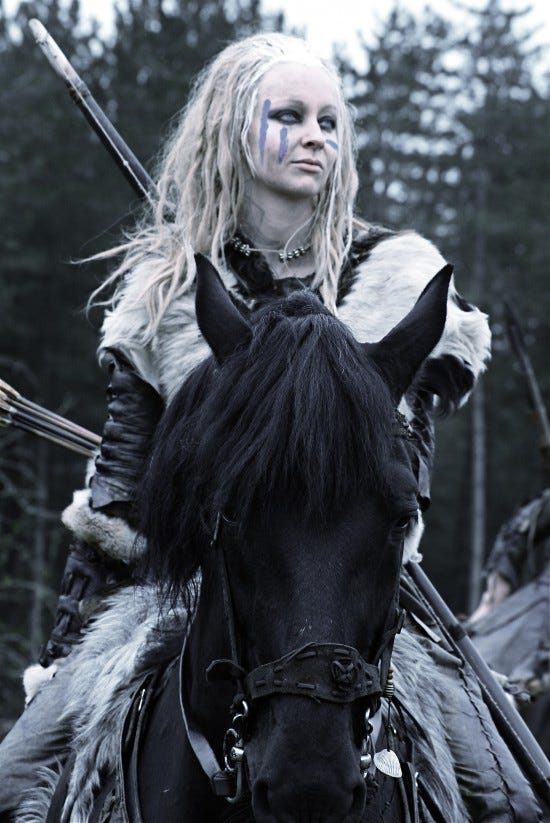 "Playing that kind of part was such a unique opportunity," says Carolyn. "One thing that often bothers me with female heroines in Hollywood films is that they almost always use their sexuality one way or another; they always need to be the 'hot action babes'. Etain and Aeron were written as warriors, killers - the fact that they're women is almost a cosmetic choice.
"In the case of Aeron, who is a bloodthirsty warrior who kills for the thrill of it, the priority for her look was to make her mean - borderline insane; it was all about selling the fact that she was a real threat, as opposed to making her sexy. So I have rotten teeth [and] dreadlocks. We also learned to move and fight in ways that made it believable that these women could kill men who were taller and stronger: we learned to use different weapons.
"I had a bow and a small axe. [I had to] move fast, and strike in the most vulnerable places. I think it brings variety to the characters and to the film, while being historically accurate and looking as believable as can be."
Braveheart and Rob Roy. Armageddon and Deep Impact. The Illusionist and The Prestige. It's common for two similarly themed films to be released in the same year, and it seems we will be treated to two Ninth Legion inspired epics in 2010 as Kevin MacDonald's The Eagle of the Ninth is also due for release.
"It's purely coincidental," concedes Marshall. "It's very odd. Both our films have been in production for a long time and it's just strange they are coming out in the same year. It works though, because Centurion is almost a set up as it shows the Legion before, whereas Kevin's shows what happens after."
So, despite the tough training sessions and extreme weather conditions the cast managed to become great friends throughout. Well, according to David Morrissey, some more than others.
"I did bond with my fellow actors, but not as much as I did with my thermal undies!"
Centurion opens across the country this Friday.
ReelScotland Centurion coverage:
Find out what we thought with our review.