Crying with Laughter Interview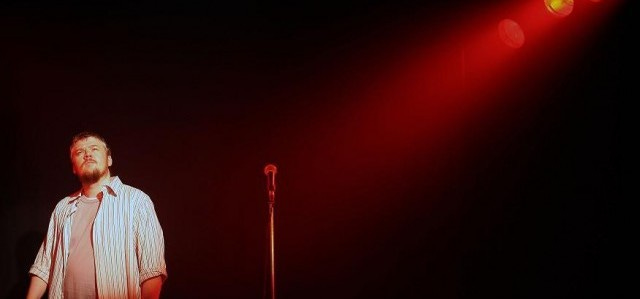 Jonathan Melville meets the director and star of a new Scottish thriller and wonders if laughter really is the best medicine.
Opening with battered and bruised stand-up comedian Joey Frisk (Stephen McCole) recalling events from the last 24 hours in front of an audience, Crying with Laughter makes the point early on that while it might not be a comedy, the world of comedy is very much at its core.
We're soon taken on a journey of discovery as ex-schoolmate Frank Archer (Malcolm Shields) tries to remind a confused Joey what happened to them 25-years previously, during their short stay at a military academy. According to Frank, the pair were abused by school headmaster Jonathon Meldrick (Andrew Neil), memories of which Joey has wiped from his mind.
Deciding to take revenge on the ageing Meldrick, a man who has forgotten his past actions thanks to the onset of dementia, Frank forces an unwilling Joey to face the past once and for all, something the crack-addicted comedian is loathe to do.
Meeting McCole and writer/director Justin Molotnikov atop Edinburgh's Point Hotel, looking out over the city which acts as the backdrop to their first low-budget feature together, it's clear that they're happy their film is about to be seen by audiences.
The pair first met in 2004 while working on Scottish Television's short-lived comedy-drama series High Times, a friendship forming which led to this collaboration.
According to Justin, memory was always a vital element of his script. I've always been fascinated by the way memory works, how people can remember the same event from their past in different ways and how it can be lost due to a traumatic event.
"That was one of the big themes I wanted to address, along with the subject of abuse and how that can affect you.
"I took the idea to Stephen and said I was playing with this idea but he said he'd only do it if he could be a stand-up comedian. It didn't take long to realise that would work well with the story.
Stephen nods in agreement. It was the most collaborative project I've ever been involved with, which gives you a great freedom and range. Generally you go for a scripted part and it's locked down, which is fine if it's a good script, but here I had true ownership of the character.
During the film, Frank mentions Joey's nickname of 'Firestarter Frisk' in reference to an incident which will come back to haunt them both. Joey's insistence that there were no darker motives provides the other key theme of Crying with Laughter, that of denial.
"Denial is a very powerful thing," says Justin, shifting in his chair, "and people can have the most horrendous experiences without ever remembering them, especially when they happen in childhood. For me there's an element of denial going on there."
"When we were initially sitting down to discuss the script, we realised we all have blocks in our memories," adds Stephen. "I have huge gaps in mine and it amazes me when people can remember their childhood so vividly. When you think back to all those blocks, anything could have happened and it's all too easy to forget traumatic events.
"That's where Frank's twisted revenge comes in, he's sitting there with Joey thinking "here's this guy just getting on with life and I can't do that." He's caught in the moment and he resents Joey for that. In that sense he resents what he did to save Joey and they have to resolve this together."
The stand-up elements of Crying with Laughter turned out to be a vital part of the film's success, Joey's need to make a joke out of everything and his desire to always look to the future at odds with Frank's obsession with the past.
Did learning the art of the stand-up comedian prove difficult for Stephen? He nods vigorously. "We'd get a pub basement and put up a mic on a Sunday and other comedians would just heckle me and throw questions at me. It's the hardest work I've ever had for a role and it makes you a better actor."
The pair agree that it was vital not to make a joke out of Franks' memories.
"It was a challenge for us to fit the stand-up into the film and in with the themes," says Justin. "Joey never looks back on his past and very much represents the future. His memory of the past is very flaky and we wanted to show how he lived his life for real and then interpreted it for his comedy.
"Frank, on the other hand, is very much stuck in the past and couldn't move on and that's how we contrasted Joey's life."
Unlike many thrillers, one of the refreshing elements of Crying with Laughter is the refusal to make Frank just another crazy, a decision which makes him all the more believable as a man bearing the mental scars of a horrific past.
"At the start we think he's going to be some sort of psycho character but he doesn't do that," points out Justin. "The film started as a drama and there was a lot more back story up front. When it became a thriller all of a sudden he became someone we thought was the antagonist, and Malcolm had to hold back so much of his character."
The film's final scenes are the most dramatic, bringing Joey and Frank face-to-face with what made them who they are and raising the controversial issue of vigilante justice. Both violent and touching, how were they for the actors?
"Painful. Very painful," recalls Stephen. "It was a cold location but we were sweating and pumping with adrenalin trying to get into that space. Malcolm's a choreographer as well as an actor and having a guy who knows how to punch and kick is important. He may be a wee guy but I wouldn't want to get into a fight with him, not for a million pounds."
Laughing, Stephen continues: "That should be the tagline for the movie, 'It's the wee guys you've got to watch out for!"
Crying with Laughter opens at UK cinemas on 16 April, visit www.cryingwithlaughter.co.uk for more information.
An edited version of this article first appeared in Humanite, the magazine of The Scottish Humanist Society.