Double Take: Looking again at the work of Alfred Hitchcock
As Double Take, the mock-documentary featuring a highly original look at Alfred Hitchock and the Cold War, comes to Edinburgh's Filmhouse and Dundee's DCA, Mark Donaldson urges you to take a second look at the work of the Master of Suspense.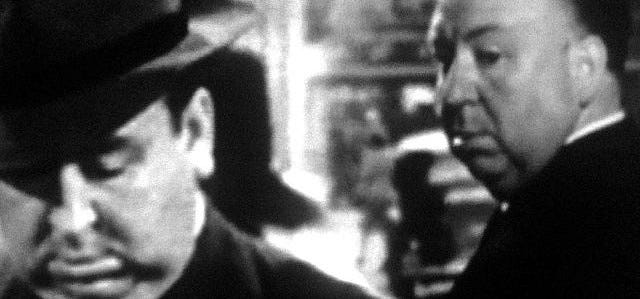 "Now, let us take a suspense situation. The bomb is underneath the table and the public knows it, probably because they have seen the anarchist place it there. The public is aware the bomb is going to explode at one o'clock and there is a clock in the decor. The public can see that it is a quarter to one. In these conditions, the same innocuous conversation becomes fascinating because the public is participating in the scene. The audience is longing to warn the characters on the screen: 'You shouldn't be talking about such trivial matters. There is a bomb beneath you and it is about to explode!'" - Alfred Hitchcock
On the one hand, Alfred Hitchcock's bomb theory, outlined by the man himself above, is a description of some of his best works: change the bomb to a dead body and the table to a chest and you have the premise of 1948's Rope.
Alternatively (and maybe this is the former film theory student in me), it's also an apt description of the Cold War in general. The public were no doubt shouting a similar thing at Khruschev and Nixon as they postured for the viewing public, baiting each other on the merits of capitalism and communism in 1959's infamous 'Kitchen Debate'.
Of course, there's no point in me writing an essay about Hitchcock and the Cold War because Johan Grimonprez's Double Take does a far better job than I ever could. So, instead of building on my rather laboured point about the 'bomb theory', I'm going to spend the rest of this piece convincing you to go and see Double Take, because it's a film worth experiencing.
On paper, it's a film hardly likely to draw in the average cinemagoer: part documentary, part cinematic collage and part film theory essay, it deals with the idea of doubles, the cold war and the war on terror, placing Hitchcock's work within this rather wide context.
Central to the film is a story about Hitchcock (in these scenes played by Dead Ringers' Mark Perry) meeting his double on the set of The Birds in 1962. At one point Hitchcock exclaims: 'They say that if you meet your double, you should kill him.' Both Alfreds then engage in a discussion about doubles and the question is posed of whether Hitchcock will bump off his own lookalike.
If that all sounds a little daunting, I urge you not to be put off because Double Take is, above all, fun.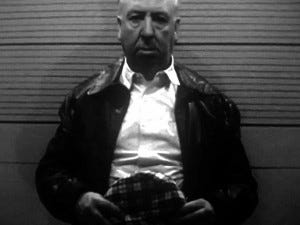 And that's maybe the thing that people sometimes forget about Hitchcock: yes he was a 'Master of Suspense'â"¢ , but man did he have a sense of humour. This is evident throughout the film as it frequently cuts to his introductions to episodes of Alfred Hitchcock Presents.
Whether he's deriding the nature of the commercial break or dressing up in a variety of different costumes to portray alternate Alfred Hitchcocks, it's clear that this is a man who's very much about having fun. It's nice then, that Burrage also seems to share the great man's sense of fun on top of sharing certain similar characteristics (I wouldn't dare be so rude as to say 'his girth').
The interviews with Burrage are an absolute joy, his tales of a career as a lookalike adding a human touch to a film that for some may be initially a little difficult to engage with. Once you get used to the way in which the film is edited there's a lot of fun to be had, chuckling at the laughably dated Folgers coffee adverts which stop us from 'getting too engrossed in the story.'
Then there's the masterful way in which Hitchcock's trailer for The Birds takes on entirely new meaning when the soundtrack from old news reports of Soviet spy planes and satellites is played over the top, the trailers' 'They're coming!' climax echoing the Soviet paranoia of Siegel's Invasion of the Bodysnatchers.
The film is at its best in these moments, playing the Cold War as one long suspense narrative, one that, rather in keeping with the film's theme of doubles, is somewhat similar to the one we currently find ourselves in. After all, the paranoid rantings of the news anchors that play over the Birds trailer would hardly be out of place on a modern rolling news network discussing global terrorism.
This is further highlighted in the closing moments of the film, as we're reminded of Donald Rumsfeld's 'known unknowns' speech, making the rather brilliant observation that weapons of mass destruction were nothing more than a McGuffin, a device that serves no real purpose other than to move the narrative on.
Whilst not for everyone, Double Take is pretty much the best part documentary/part film theory essay/part assemblage I've ever seen. There's something rather apt about constructing a tribute to Hitchcock, a director who knew exactly how to frame a memorable image from a series of unconnected images, be it Cary Grant being chased across a cornfield or Janet Leigh deciding to take a nice relaxing shower.
Not so much 'worth watching' as much as worth experiencing, Double Take is a perfectly pitched, masterful tribute to one of the true greats of cinema.
Double Take will be screening at Edinburgh's Filmhouse cinema from Friday 7 May and Dundee's DCA from Friday 30 April until Thursday 6 May.