Edinburgh Fringe 2011: Casablanca: The Gin Joint Cut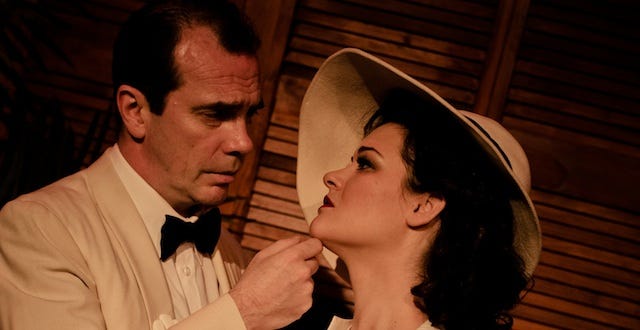 Described as a "lovingly disrespectful homage to one of the classic films of all time", Morag Fullarton's Casablanca: The Gin Joint Cut arrives at the 2011 Edinburgh Fringe with a clutch of rave reviews from its original run at Glasgow's Tron theatre.
In this pared down version, which runs to an hour and loses 20 minutes from the original, Gavin Mitchell (Still Game), Jimmy Chisholm (Braveheart) and Clare Waugh (Taggart) star as three actors putting on a stage version of 1941's Casablanca and splitting the roles between them.
Mitchell takes on the part of Rick, played by Humphrey Bogart in the original, while Waugh is his ex-lover, Ilse, and the nasty Nazi of the piece, Major Strasse. Chisholm is left to play a handful of other characters, including Peter Lorre's Ugarte, Paul Henreid's Victor Laszlo and anyone else that needs to make an appearance.
In the first of our short series of film-related shows at this year's Edinburgh Fringe, I spoke to Mitchell and Chisholm at a typically noisy Fringe venue about how they became involved with the play, what films fans can expect from it and what other classic movies should be adapted for the stage next.
Casablanca: The Gin Joint Cut is at Pleasance One until Monday 29 August, 16.30-17.30.