Edinburgh International Film Festival 2010: ReelScotland Picks
With 133 features from 34 countries being screened across 12 days from 16 - 27 June, the 2010 Edinburgh International Film Festival is shaping up to be something very special. Here at ReelScotland we've spent the last 24 hours scouring the programme to bring you a selection of some of our most anticipated films, going on past experience, Internet chatter and gut instinct. We've selected five each, missing out The Illusionist and Toy Story 3 as seeing those films is a given...
Jonathan Melville's picks: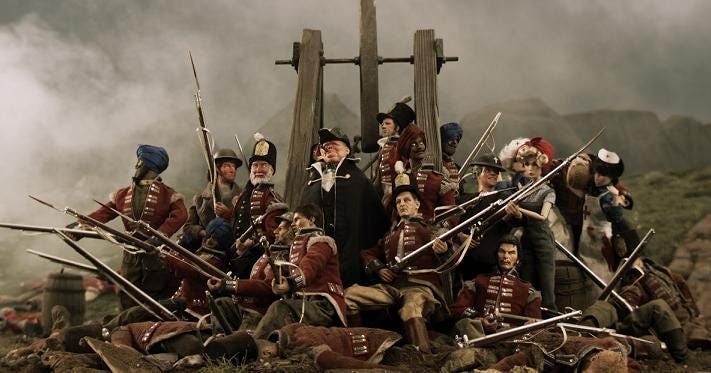 Jackboots on Whitehall
Sunday 20 June 15.30 Cineworld Friday 25 June 17.45 Cineworld
Jackboots on Whitehall is an alternative history of WWII in which Winston Churchill (Timothy Spall) is forced to retreat to Scotland after Hitler (Alan Cumming) and the Nazi hordes descend on London, while young Chris (Ewan McGregor) tries to fight back. Only...well, the actors are voicing animatronic puppets and it's a Boy's Own style adventure done in the style of Team America. All very odd, but the thought of Cumming, Tom Wilkinson and Richard O'Brien as Hitler, Goebbels and Himmler respectively is surely too tempting for any film fan to ignore. Isn't it?
Red Hill
Saturday 19 June 20.00 Cameo 1 Wednesday 23 June 20.25 Cameo 1
I'll admit to not knowing much about this small Australian thriller from director Patrick Hughes, but that's no bad thing: film festivals are all about discovering new things. Described as a modern Western set in the Australian Outback, Red Hill finds a police officer relocated to a remote town where news of a prison break causes panic in the streets. With a suitably dark trailer, a great cast including the always-watchable Steve Bisley, and a definite buzz around it, Red Hill could well be a cult classic in the making. Time will tell.
Get Low
Friday 25 June 18.30 Saturday 26 June 17.30
Part true story and part fable, Get Low stars Robert Duvall as a hermit in 1930s America who decides to organise his funeral and throw a party to celebrate his death...while he's still alive. Co-starring Bill Murray and Lucas Black (remember him as the little boy in the brilliant American Gothic?), again I have high hopes that this will be worth seeing, even if it's just to witness Murray once more being given the chance to show he has more range than many actors out there today.
Winter's Bone
Saturday 19 June 20.15 Filmhouse 1 Sunday 20 June 15.45 Filmhouse 1
Adapted from Daniel Woodrell's bestselling novel, the author dubbing his style 'Country Noir', Winter's Bone is set against the bleak woodland landscape of America's Ozark Mountains and stars Jennifer Lawrence as Ree Dolly, a young woman caring for her two brothers and sick mother. Forced to go in search of her drug addicted father who has put the family home up as bond, we follow Ree through a rural community damaged by a strong drug culture. Co-starring the always-excellent Garret Dillahunt (Deadwood), this may not have the cheeriest subject matter but it looks impressive.
Privilege
Friday 18 June 13.00 Filmhouse
In Peter Watkins' 1967 drama, Privilege, Manfred Mann's Peter Jones is teen heartthrob Steve Shorter, a singer who's career had been shaped by the British government of the day as they try to teach the teenage population how to behave. Shorter may start off the rebel, but with his mentors' help he'll be formed into something more palatable, his fans hopefully following suit. While I'd recommend that Privilege is seen by as wide and audience as possible, it's worth mentioning that this is just one film in the Retrospective strand, a total of 16 films waiting to be rediscovered.
Richard Bodsworth's picks: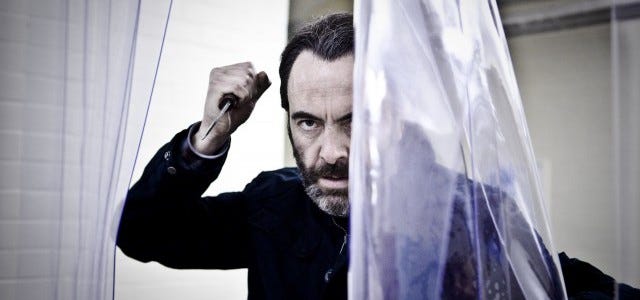 Outcast
Saturday 19 June 22.30 Cameo Wednesday 23 June 22.45 Cameo
Coming off the back of some Harry Knowles gushing and a successful SXSW screening, this Edinburgh set horror stars James Nesbitt along with some great Scottish support including, Kate Dickie, James Cosmo and new Doctor Who assistant, Karen Gillan. The film has already gained substantial buzz for its originality and ambition, and anything that Harry says is an excellent film is worth a watch. At the very least it can't be any worse than New Town Killers.
Huge
Friday 18 June 18.00 Cineworld Sunday 20 June 15.45 Cameo
Comedian Ben Miller marks his directorial debut with Huge. The tale follows a feuding comedic double act, played by Noel Clarke and Johnny Harris, and their attempts to make it big on the stand up circuit. Eddie Izzard, Mark Lamarr, David Baddiel, Stephen K. Amos and Russell Tovey are among the many to make cameo appearances. Sadly so does Kevin Bishop, but don't let that put you off what I hope will be a great British comedy.
High School
Tuesday 22 June 21.30 Cineworld Wednesday 23 June 18.15 Cineworld
A stoner comedy can be great, but only if done well: thankfully I'm getting some good vibes from High School. Colin Hanks plays a good, hard working, head of his class student who decides to let his hair down and smoke a little weed with an old time friend. Unlucky for him, the next day the entire school are to be drug tested. Not good, obviously. The plan to escape trouble is simple, steal from a drug dealer and get the whole school high! Although it has every chance of being awful, Michael Chilkis as the school Principal and Adrien Brody as a drug dealer called Psycho Ed is enough for me.
The Last Rights of Ransom Pride
Thursday 17 June 22.35 Filmhouse Friday 18 June 22.30 Filmhouse
Dwight Yoakam, Kris Kristofferson, Jason Priestley and Peter Dinklage in a Western. Do I really need to say any more? It's Texas 1910 and Lizzy Caplan plays the woman attempting to take the body of her dead outlaw lover back home. I'm assuming it's not as easy as it sounds. With a dark and ultra violent Western promised, this is surely classic B-movie material.
Ollie Kepler's Expanding Purple World
Friday 18 June 18.30 Cineworld Sunday 20 June 18.00 Cineworld
Edward Hogg starred in the fantastic Bunny and the Bull last year, and now he's back in a film worthy of an award for the greatest title of this year's festival. Hogg plays science geek, Ollie, whose life spirals out of control after a tragedy hits. An offbeat black comic drama is expected, rounding off my top picks for this year.
Ross Maclean's picks:
Chase The Slut
Saturday 19 June at 10.45pm, Filmhouse 1
Ryan Denmark returns to EIFF with his second feature after last year's wonderfully named Romeo & Juliet vs. The Living Dead, which more than lived up to the promise of the title. Chase The Slut (as well as boasting an equally attention-grabbing title) concerns a sexually promiscuous girl who takes a bet to seduce a devout member of a religious group, only it would seem that genuine affection gets in the way. By appearances this is a bawdy, grown-up comedy about sex, religion and good old fashioned emotion, helmed on a low budget by a talented young director.
Boy
Friday 18 June at 6.00pm, Cameo 1 Saturday 19 June at 1.15pm, Cameo 1
Although promoted in EIFF literature as "from the director of Flight of the Conchords", it's more fitting to give director Taika Waititi credit for his brilliantly oddball comedy Eagle vs. Shark (which admittedly does share some Conchords talent in lead actor Jemaine Clement). His new film is already the second biggest movie in his native New Zealand and is the 1984-set story of a Michael Jackson-obsessed Boy who retreats into his imagination to cope with the absence of his jailed father. Boasting mass dance routines and an unmistakably deadpan NZ feel, this looks like it could be a pleasingly heartfelt comedy.
Two Eyes Staring (Zwart Water)
Thursday 17 June at 10.45pm, Cameo 1 Tuesday 22 June at 10.30pm, Cameo 1
A nine-year-old girl befriends another ghostly girly when her family moves into a spooky old mansion. A Dutch horror film which appears to mine a number of ghost tropes from Japanese and American films, but transplants them to Europe. Despite the hoary premise, from the look of it, we could have another Orphanage. Whether comparisons with The Vanishing are warranted, based on nationality alone, is another matter¦
Donkeys
Sunday 20 June at 6.15pm, Filmhouse 1 Thursday 24 June at 1.15pm, Filmhouse 2
When the first film from the Advance Party project masterfully combined the dual national styles of its creators, Scottish social drama and Dogme-infused Danish arthouse, the result was Red Road. Ostensibly an unrelated follow-up which features some of the same characters, this adopts a lighter tone but still looks set to provide nuanced drama as Alfred (James Cosmo) attempts reconciliation with his family before he dies.
My Son, My Son, What Have Ye Done?
Wednesday 23 June at 9.50pm, Filmhouse 1 Friday 25 June at 5.55pm, Filmhouse 1
The mouth-watering prospect of a David Lynch-produced, Werner Herzog-directed film is surely reason enough, but this is based on the true story of a bizarre crime. Michael Shannon plays Brad McCullum as we follow the events which lead up to his killing his own mother. Shot guerrilla-style and featuring Willem Dafoe, Chloë Sevigny, Udo Kier and Twin Peaks' Grace Zabriskie, this could be another work of brilliance from the Bavarian maestro. Any film which even partly returns Herzog to the jungles of Peru, where his legendary status was manically galvanised, must be worth seeing.
So, there you have it, 15 films which we think could be worth spending your hard-earned on this year. But what do you think? Tell us what you'll be heading to see in the comments section below, or drop us a tweet over @ReelScotland.