Discover more from ReelScotland
A free newsletter covering Scotland's screen sector.
Getting ready to set sail: Boat update
Set in an Edinburgh enduring an underwater apocalypse, Boat is a crowd-funded short CGI film written and directed by David Lumsden and produced by Katie Crook of Blue Iris Films which we first featured back in 2010.
With Boat now in the final throws of production, we spoke to the visual effects (VFX) team - Alan Kichl (Head of VFX), Anthony Devine (Digital Matte Painter) and Dave Lewis (Keying/Rotoscoping) - about the lengthy and technical process they've gone through on the project.
ReelScotland: How did you get involved in this project?
Alan Kichl: I was contacted by Katie and David, and they asked me if I could do something about the water simulation for the film. Since I had just finished another project in Edinburgh, and I was ready to get back to Croatia, we agreed that I should take a role in the project and finish it remotely from Zagreb.
Dave Lewis: I actually love telling this story. I was in my final year at University and was working on my Honours project about compositing and combining different types of media. One day I went over to ask a lecturer if he had a book I was looking for. As I was looking for the book, my lecturer and I were talking about my project and as soon as I finished telling him about it he shut the book he was looking at and said in a very serious tone, "Would you be interested in a project?".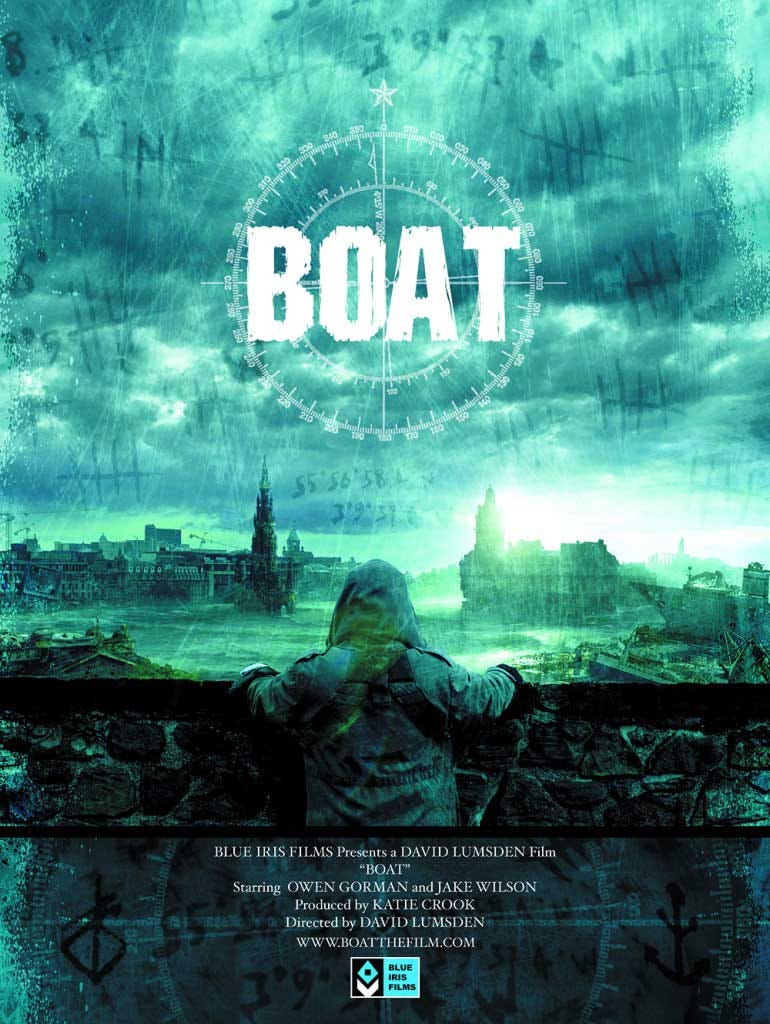 I was very interested and all he told me was that it was a compositing/VFX project and took me over to see the director (Dave). So we had a meeting about the project and what it was all about and that was it, I had joined the team. To me it was like a TV moment of right place, right time. I left my friends looking for a book and came back with a job!
Anthony Devine: Dave found my portfolio on CGSociety and contacted me about a short film that he was about to start filming. His pitch to me was pretty much, Edinburgh, underwater, post apocalyptic. Sounds like fun, I said!
Dave Lumsden: Finding the team was tough, we struggled to find available VFX crew towards the end of pre-production, we gave a specific date on IndieGoGo and it became a count down to the shoot. I didn't want to delay the filming because on a short getting everyone together on a few specific dates is hard.
I would have wished to have more time to get the VFX guys in earlier so we could properly pre-visualise each scene. In hindsight this would have shortened the post production process dramatically, but luckily we had Anthony (Matte Painter) on board so he could give us concept art that I could show to the actors and they could see what I was trying to achieve.
Owen and Jake, the two leads, were very appreciative of the concepts as they could draw a lot from them. The other VFX crew came on board after we wrapped and luckily they were able to help. It's difficult to find hard working motivated people when you have no budget, the guys were just passionate and really excited about being involved.
Katie Crook: Both Dave and myself (and most of the crew too) were totally new to CGI and there were a few crucial steps that we got slightly wrong or did in the incorrect order. A VFX supervisor would have been worthwhile sourcing but on the budget and timescale we had me and Dave had to take on this role. We did a lot of research alongside Krish (the DOP) as to lighting and tracking set ups for green screen. Then we did some callouts on VFX message boards and blogs to find Anthony and eventually some of the rest of the team too.
What was your approach/workflow for visual effects in the film?
Alan Kichl: First of all, most of the film was made in studio on green screen before I joined the team, so many shots needed to be stabilized and re-arranged in post. Almost all of the boat movement needed to be done again. Since we did not have the chance to reshoot we had to do it all in post. Our general workflow was to rotoscope the boat, stabilize the movement, create the water, add Anthony's matte paintings for the background, simulate boat/water interaction, composite everything together and then make final colour correction at the end.
Anthony Devine: I was the DMP (Digital Matte Painter) on the film, which meant that I had to design and create all the environments based on what I read from the script, no small job! The project was filmed largely in a green screen studio. Dave originally used some concept art that I created a couple of days before the shoot to give the actors a visual clue as to what their characters were witnessing. Later, after the final edit was done, I would then filter through each scene and begin to conceptualize how I would go about creating the world Boat is set in.
Dave Lewis: I was responsible for all of the rotoscoping/keying and a small part of the VFX. Rotoscoping/keying is when you basically erase elements of a shot that you don't want in them. The keying side is mainly for when you're filming in front of a green screen as it allows you to eliminate a colour from the shot. Which is why you never have an actor dress in green when using a green screen, unless you want to transform them into a floating head!
Rotoscoping is the process where you pretty much just draw around the elements that you want to keep in the shot, anything not in those areas goes. Most shots should only require one or the other but there were times when both were required. First keying out the green screen and then rotoscoping out things like boom mics, lights etc. Although it doesn't sound like it should take long, believe me it is very time consuming!
Boat's green screen filming
Computer effects in Boat
Why did you want to work on the project?
Anthony Devine: The team's honesty and commitment to the project. This would be an unpaid job, hugely challenging not to mention ambitious, so trust and honesty was important between everyone. There was no bullshit speech about how Boat was going to launch our careers. It was all about hope. The hope that we'll gain exposure from what we're making and to show how passionate we are about the work we do. Personally, because the work reflects me as a Digital Matte Painter (DMP), I wanted to do my very best to secure a good enough show reel to later submit to studios. I think we all made something great from our bedrooms!
Dave Lewis: When I had the very first meeting with Dave (Director) and he started to talk about the project I was immediately hooked and wanted in. Not only was it an interesting idea but the epic size of the project and being responsible for a large section of the VFX was something that I couldn't pass up. Not a lot of students have the opportunity to obtain such great industry experience until at least a couple of years after they've finished University and knowing that I could get that experience as I'm leaving University, you'd have to be an idiot to not accept that.
Is there any part of the project that's been particularly memorable for you?
Alan Kichl: In some cases we had to cut actors out from the boat footage, then stabilize the boat movement and put actors back in. That was a lot of roto work and compositing. Getting water to look right was a tricky part as well, and there were about 150 shots in the movie and most of them had some kind of water movement.
Anthony Devine: The external tower block scene was particularly tough to work on. Because there were so many different angles that this scene was shot from, trying to get my perspective accurate and compositions interesting was no laughing matter. A 3D matte painting approach would have been the best or at least, easiest way to go about creating this part of the film (I've still to learn 3D... currently saving).
Dave Lumsden and Katie Crook: We're really pleased with the results and definitely owe the VFX team (and everyone from the long gone days of the shoot too) one huge wrap party of gratitude. It looks stunning, thank you! Beers soon!
Boat is currently in the final stages of grade and sound mix. So fingers crossed it will be finished and festival bound very soon! For more info on the film and the crew go to www.boatthefilm.com or follow us on Twitter @boatthefilm
[vimeo id="36609732" height="350"]