'If you've got a hot date on a Saturday night, take her to IMAX': Cineworld IMAX comes to Edinburgh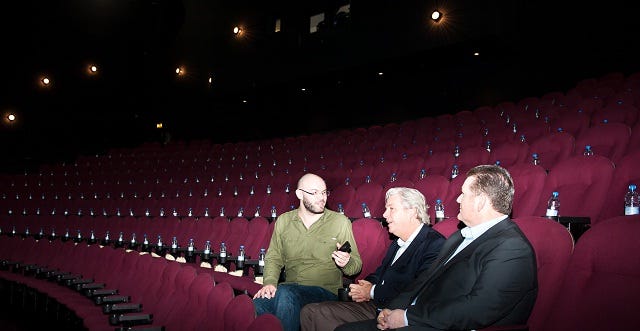 Last night saw the gala opening of the UK's latest IMAX cinema at Edinburgh's Cineworld, launching with the first showing of Mission Impossible: Ghost Protocol on the new screen.
For Edinburgh audiences previously denied IMAX, the film proved to be jaw-dropping experience. Whether director Brad Bird is taking us to the top of the world's tallest building, throwing us down a ventilation shaft or driving us through the streets of downtown Dubai in a high speed car chase, IMAX is undoubtedly a step forward in cinema-going, the 18 x 11 metre screen making standard cinemas look like portable TVs in comparison.
Introduced by Larry O'Reilly, IMAX's Executive Vice President of Worldwide Sales, and Matt Eyre, Vice President of Operations for Cineworld, Edinburgh's IMAX is the first evidence of a new partnership between the companies which will see three new screens open at Cineworld cinemas in the UK.
O'Reilly and Eyre were keen to talk about the arrival of IMAX in Edinburgh, a discussion you can listen to via audioboo or read below.
"We put an awful lot more light onto the screen, which means the image is a lot brighter," says O'Reilly when asked what differences viewers will notice with IMAX, apart from the size. "The standard for digital projection is 14 foot Lamberts of light and when we're projecting in 2D we're using two projectors that are synchronised and they put out 22 foot Lamberts.
"When you have more light you can have much greater contrast, you can have much greater colours, and the images really pop off the screen. The other thing you'll notice is that the sound system is incredibly dynamic."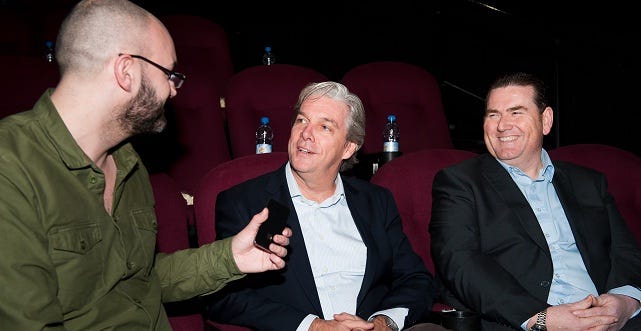 "Pretty much everything in here is new," adds Matt Eyre. "We took all the wall fabric back, we need stronger sound baffling so it doesn't bleed next door because the IMAX sound is so much stronger. We changed the ceiling, we took out the seats and the whole thing has been changed."
In addition, the sound system used in Edinburgh's IMAX was built specifically for the design of Screen One's auditorium.
"The speakers are handmade and installed using lasers, they're so precise," says O'Reilly. "In each movie we release we work with the filmmakers to customise the movie for IMAX, which includes remixing the sound."
For Mission Impossible: Ghost Protocol, it helped that Brad Bird and star Tom Cruise are IMAX fans.
"They went a little further," continues O'Reilly. "They took the IMAX cameras and shot key action sequences of the film. The big money shot of this movie is Tom Cruise doing his own stunt on the outside of the Barj Khalifa, and it was captured with IMAX cameras, so when that camera tilts over his shoulder, if you have vertigo you're going to have a tough time in the auditorium."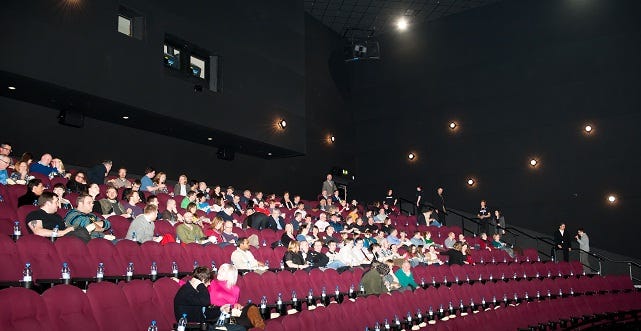 IMAX may be an impressive experience, but with that comes a higher ticket price, something O'Reilly acknowledges: "We deliver an incredibly premium experience because of all the technology in the auditorium and the fact that we're actually changing the content that's going on screen and enhancing that.
"What you'll see when big movies open is very high occupancy rates and people booking in advance more than they normally would because there's a finite number of seats. If you've got the hot date on a Saturday night, you want to impress her, take her to the IMAX."
As for upcoming titles shot for IMAX, O'Reilly is looking forward to around 24 films in 2012, including The Dark Knight Rises, over an hour of which was shot with IMAX cameras, The Amazing Spider-Man and The Hobbit.
He also hints that one more film could be coming to IMAX in 2012, should negotiations go smoothly: "IMAX is really interested in having the new James Bond movie, Skyfall. We hope to announce something soon."
Cineworld IMAX Edinburgh opens tonight at Cineworld in Fountainbridge, tickets can be booked online from www.cineworld.com/IMAX.
Will you be heading to the new IMAX? Let us know in the comments below.
All images copyright Simon Williams www.simonwilliamsphotography.co.uk