Interview: Ashley Lilley
In the first in an occasional series of profiles of rising Scottish talent, ReelScotland talks to Ashley Lilley, star of box office supernova Mamma Mia! and the forthcoming Letters to Juliet, about her background, her career so far, and her hopes for the future.
Ashley Lilley is a young actress aware of just how lucky she is. As Ali (Amanda Seyfried's bridesmaid), a featured voice among Mamma Mia's literal Greek chorus, even she readily admits taking on the role was a gamble. All portents suggested the film's success was far from a certainty in terms of box office credentials.
"[It's] this movie about a beach, and ABBA songs, and a girl getting married and, you know, an illegitimate child who doesn't know who her father is! On paper it doesn't look like a box office smash, does it?"
She's more than aware of the privileged position she found herself in as a result of making that bold choice. "I mean, people would hate me if I sat here and said 'it was really hard work and there were days when I couldn't get out of bed to go and do it.' That would be ridiculous, she laughs. It was the best time and it was the most fun I've ever had."
Mamma Mia! may have been just a lucky thing that came along, but behind the auspices of good fortune comes years of hard work.
Ashley was born in 1986 and raised in Rothesay on the Isle of Bute.
"Bute's not necessarily the easiest place to get your start in show business, you had to go further afield for your opportunities," says Ashley. "However, it did help sharing a house with a large extended family who enjoyed performing. When I was about six or seven, my mum and dad bought a house with my Nana and Papa, who are Mum's mum and dad.
"So we all moved-in together along with my mum's sister and her two children. We all moved-in to this big house. It was brilliant, she enthuses. My whole family sing. Well, especially my Nana used to sing in a band. My dad is a singer. I grew up hearing my dad singing all the time.
"Every family party, everyone was singing. So, it was just instilled in me that you'd get up and do a turn, she advises. We didn't even study drama at school, which was odd. The only kind of opportunity was school shows; school musicals which happened once every two years. So that's where I started. We did Barnum and Hello Dolly and things like that but there was nowhere to learn to do it, to study a craft.
"Obviously it's different now. I mean kids have so much more interest in theatre and singing and acting. People aren't embarrassed to do it now, I guess because of shows like The X Factor, High School Musical and Glee. I think kids have much more of an interest in it and aren't afraid to say 'oh, yeah, I'll give it a go. I'll have a sing.' Whereas when I was younger I think not a lot of kids were doing it.
"From a very young age, my mum and dad would sit me and my sister down to watch classic musicals: Singin' In The Rain, High Society, that sort of thing, because my mum and dad loved musical theatre."
© Sam Attwater
After starting out in school shows, and with a deeply-ingrained love for musical theatre, the obvious choice seemed to be to join the National Youth Music Theatre, where Ashley was accepted for a place and would leave Rothesay every few months on residential acting courses.
Although her deep love for Rothesay is apparent ("A very close community and everybody's so proud of anybody who achieves anything"), Ashley was aware that there just wasn't enough scope to forge a career based there.
"I guess I was just getting itchy feet," she says. "I think I was eleven when I first said to my mum, when I was doing National Youth Theatre, 'Mum, this is really what I want to do' and we looked into going to residential stage school. My mum just wasn't keen on it. She was like 'no, I need to wait until you're older to make sure this is what you want to do.' She didn't want to just pack up her kid and just send me away."
"After biding my time for a few more years, attending dance school in Motherwell every weekend and doing further shows in Rothesay, it got to the point where my mum was like 'okay, she is taking this seriously'."
After using the local library to research stage schools ("You didn't have the internet and stuff! It's so weird thinking back. It wasn't even that long ago,"), when she was fourteen she was accepted for a place at the prestigious Italia Conti Academy of Theatre Arts in London.
"I remember there was a documentary on just about the same time about Italia Conti and then I realised Lena Zavaroni [another Rothesay performer who tragically died after battling anorexia nervosa, aged 35] had gone there.
"Lena Zavaroni, to me, is one of the biggest talents to ever come from Britain. I mean, not even Scotland; Britain, because she was amazing. Look at what she did from a young age and she had the most astounding voice. I'm so sad that I've got to this stage in my career and I'm not able to meet her. I'd love to meet her and I'd love to chat about what she's done."
On the subject of a planned biopic of Zavaroni, Ashley is unsure about her suitability, despite obvious parallels in their lives.
"I could never play Lena! I think she was about five foot three and I'm five foot ten! I think it would look rather odd but it would be amazing to be involved in something like that if they were going to bring it from her Rothesay roots, but definitely not as Lena, she muses. Unfortunately my height gets the better of me!"
After graduating from Italia Conti in 2004, Ashley took the inevitable first steps towards a professional career in musical theatre.
"I went straight into a musical at the Edinburgh Fringe and then straight on to Anything Goes, which was a 7-8 month tour around the country. It takes it out of you doing a show every single night, and then two days during the week doing two shows. So, while that was amazing - it was such a great experience - it's a long time.
"I got back after doing the tour and was like, 'well, I want to try and do something different'," Ashley ponders. "It's hard work to make a leap from musical theatre into film because people look at your CV and sometimes think 'oh well, she's used to doing that, maybe she's not going to be able to do this.' So I took a few months out to meet casting directors and try different things.
"My sister's a huge movie fan and there's nothing she doesn't know about movies. She got me into early Johnny Depp movies and River Phoenix movies. That's where a love of film came from.
"It just so happened that, at that time, musicals were making a comeback on the big screen in a big way - Chicago had bagged Oscars and Hairspray was a runaway success. Then Mamma Mia! came around and it was a great transition to go from musical theatre to doing film, but also the singing aspect and the performance and dancing aspect, she says. I was very lucky.
"It was my first film so I didn't really know what to expect. I didn't really have any experience in that sort of thing. We went in and started rehearsals and, from what we hear, that is really unheard of in movies: to have a 4-5 week rehearsal period before you actually get anything on film.
"So, you've already bonded with the cast before you've even started filming and I think that came across, especially the scenes with Amanda [Seyfried], Rachel [McDowall] and I. You could really tell that we were good friends and enjoying each other's company."
Ashley (centre), with Rachel McDowall and Amanda Seyfried in Mamma Mia!
Using her own Scottish accent in the film was never an issue: "There was never any pressure to lose it. At one point I did, in my audition stages. When I was doing the script, I did audition with an English accent, she recalls. By the time I got the part and got on set, Phyllida [Lloyd, director] was just like 'no, no, no, come on, keep Scottish!'
"Mamma Mia! is a melting pot of people; different ages, different people from all over the place, which I think is always nice to watch," she says. "Julie [Walters] was Northern, then you had your Americans, Rachel is from Liverpool, but she had to put on an English RP accent and then I was Scots and Stellan [Skarsgård] is Swedish as well!"
Filmed over ten weeks in Pinewood Studios and a month on location in Greece, Ashley is full of praise for the on-set atmosphere, including involving her visiting family.
"I had most of my scenes with Amanda, Rachel and Dominic [Cooper], so the four of us just hung about with each other in Greece.
"We were all staying in the same place so well all met for dinner most nights and had a few drinks, she says. There wasn't a divide at all between cast members, especially being able to bring your family over into that environment and for them to feel comfortable is obviously a big thing. I'm sure for the first hour of sitting at a bar next to Pierce Brosnan my mum and dad were a little bit 'oh my God! What are we doing here?', but they soon got used to it and everybody was made to feel really comfortable.
"When you were at Pinewood, it was a day job. You were being picked up every day, you were being taken to set then you were going home to your life. Whereas when you were in Greece, you were on a holiday and, oh, you could do anything at night! You didn't have any rules even though you had to get up at five in the morning to go to set, sometimes a little worse for wear! That was a great experience.
"We had a wrap party out in Greece, so that was brilliant. Everybody was up singing at the piano with Benny [Andersson, from ABBA] and it was a bit of a surreal experience. There were times when you had a "moment"; 30 seconds just going 'where the Hell am I? What am I doing? Is this really happening?' - but it was! It was a very strange time but it was brilliant."
On the subject of regretting not really getting to sing with any the other cast, such as Pierce Brosnan, a man not usually associated with musicals, she is more than positive.
"I was Pierce's dance partner, so I don't think I did too badly; getting to dance with James Bond, you know?" she laughs. "We did Voulez-Vous all together and there were lots of group scenes.
"No, I don't regret anything. Voulez-Vous was one of the funnest weeks of filming we had, and that was all with Pierce and Colin [Firth] and dancing about. It was great."
She's even full of praise for Pierce Brosnan's oft-criticised singing voice: "I thought everybody gave their all and especially Pierce. Some of the time he took a lot of stick and I think it's ridiculous. I mean it would look silly if you were to come and see Mamma Mia!; everybody's normal and then Pierce Brosnan comes out with a voice like Pavarotti! It would look false and it would look fake. I just thought it was so natural and it just fits the whole Mamma Mia! vibe.
Unable to predict the film's eventual success, Ashley still wasn't certain of how it would be received.
"It's just one of those things. When we were filming it we were all just in a sort of bubble. It was all great fun and we were all having the best time and you don't really think about what other people are going to think. You're just happy that you've got a job and you're having fun.
"I guess when I was in the cinema for that first screening, I think we all kind of knew, she muses. It sounds cheesy but you had that feeling it was something special. It was just bloody good fun to sit and have a laugh and sing-along to those brilliant songs! Once you watched it you knew.
"I think you just had to go in and leave whatever baggage you had at the door and just go in, sit in the cinema and take it for what it was, which was a bloody good time. It wasn't too serious. It was tongue-in-cheek, it knew that some bits were ridiculous but it just ran with it and that's what's so funny about it. It didn't take itself too seriously. I loved that critics just went in there instead of sneering and going, 'aw, this whatever!' They just embraced it for what it was.
"My Nana, who I lived with, was a huge ABBA fan, she recalls. I would have loved for my Nana to have seen this film. She would have bloody loved it."
Ashley sounds positive of the subject of the potential sequel, which was discussed in the wake of the film's all-consuming success.
"We have heard a few things actually. There's been a few things going around so fingers crossed. I would love there to be, she gushes. Nothing's set in stone yet. I've seen no script but it looks positive. There's a definite fanbase for it so I would expect them to please the fans and pull something out the bag in the next year or so."
Letters to Juliet poster
Ashley has recently worked with Amanda Seyfried again on the film Letters to Juliet, a romantic drama set in Italy. Amanda was already involved with the film and shooting it out in Italy, she says.
"They needed a British female for this part during the movie and I just got a phonecall from my agent saying 'there's this, can you go and meet with them?' Then I found out it was Amanda's movie and I got the part and it was all very strange."
Letters to Juliet centres around a journalist called Sophie, played by Amanda Seyfried ("Again! Amanda's playing a Sophie again!"). She's in Verona investigating the phenomenon of a wall where letters are posted to Juliet Capulet in an attempt to resolve relationship woes. "You know, it's a romance!" trills Ashley.
Ashley plays the niece of Vanessa Redgrave's character. Not to give too much away but there's a big wedding at the end of the movie! I come along for that and there's a mix-up and confusion over who I am.
"It'll be fun for Mamma Mia! fans I guess as well; to kind of go, 'gosh, is that that Scottish girl from that film with Amanda again?' It's a bit strange! It was nice, you know, it was a week-and-a-half in Italy so it was a nice, nice little job, she laughs. It was great being out in Italy. Me and Amanda were sat back thinking 'what did we do?' Spending time in Greece filming and then we were in Italy, so all very lucky!"
As well as working with Amanda again, Ashley is full of praise for the other cast she worked with.
"There's not much you can say about Vanessa. She's just incredible. It was nerve-racking, she says. She's a hugely influential British female so getting to work with her, and getting to meet her, was pretty amazing. She's so laid back and just a lovely, lovely natural woman. It was absolutely fine, I was put at ease immediately on set."
She did have some regrets though, chiefly missing out on getting to work with Gael García Bernal: "All of his filming was over by the time I got there and most of his stuff was in New York with Amanda. I didn't get to meet him unfortunately. I wish!"
Although she plays an English character this time around, she's absolutely adamant that a Scottish accent is no hindrance when it comes to getting work.
"It's who you are. Fair enough if they ask for a specific accent, you go in with that, but maybe there used to be, a few years ago, people looking down on regional accents. I don't know, she ponders. I don't think it ever holds you back."
Although perfectly happy with the work she has done on film so far, Ashley is constantly looking for challenging roles, such as that in the upcoming BBC Three series, Lip Service.
"That was amazing; I'm Carla in the first episode of it so we'll see how it goes down. It's set among the gay community of Glasgow so it's something a bit different for the BBC. It's a bit edgy.
"It's definitely what the film and television industry need, and Scotland is getting there. The film industry's definitely picking up and there's so much talent coming from Scotland at the moment. So it's great to showcase that in a show on the BBC.
"I was in Glasgow about a month doing that but, gosh, I loved it. I love being back in Scotland and if any opportunities came around for me to be there a bit longer, I'd bite someone's arm off to get at it! It would be great to get back up to Scotland to do some more projects."
Last year presented just such an opportunity in the form of a short film called Cat Eats Dog, directed by Napier University student Daniel Taylor as his final degree piece.
"That kind of happened really quickly actually. My agent got a call from this young guy, young director, saying 'I've got a short film, I've seen Ashley in a couple of things and I think she'd be right for this part,'. I spoke to my agent, they sent me the script and it was just a really great part. I just really enjoyed the script.
"If it was a student film, if it was a blockbuster, whatever, it just comes on the script, she states. It doesn't really centre around money or anything like that. I'm still a young actress, I'm looking to build up my CV and get a good showreel so I don't think you can afford to be sticking your nose up at whether it's a short film, a student film, or whatever.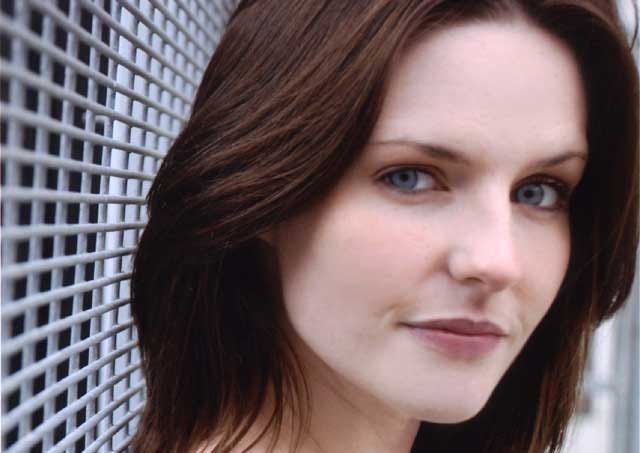 The role of a manipulative vamp is somewhat different to the vivacious character we saw in Mamma Mia! and Ashley is keen to diversify.
"It's always fun to play someone far away from yourself. It's not really anything you get to do in real life, she says. [In] Lip Service I'm a bit of a different part; it's more a gothic part. It's just fun to dress up, I guess. Acting is playing at the end of the day. You're only playing a part, it's not life or death."
Ashley is philosophical on the subject of acting in general and especially getting your break in the acting world.
"It's hard. It's really bloody hard work. There are times when you're just getting knock-back after knock-back and it can really get you. I know I've gone through stages of just going 'why am I doing this?' but I'd always say, if you love it, you have to try it.
"When you do get that part, when you do see something you're really proud of, those highs are so much better than the lows, when you're out of work or where stuff isn't going right for you. When you do get something that really works out it's so worth it."
Although singing is her first love, acting is her main priority and focus right now and where she sees her future: "I love singing and I always do it. I still gig with a swing band and do corporate events and I record some stuff with my friend who's a songwriter, she informs. It's always an option. I've done it from a young age so it's always out there. You can always go back to singing. Just pick up the mic and away you go.
"At the moment it's all film and television and I'm lucky to have the option I guess."
Ashley's aspirations for what she would like to do, and who she would like to work with, range far-and-wide.
"I'd love to do a costume drama, kind of Jane Austen-style. They're so popular at the minute and that's something I'd really love to do, she beams before somewhat about-turning. I love horror movies. They're my favourite genre of films so just to get out there and do that.
"There are so, so many talented people come from Scotland. I love Peter Capaldi. He is one of the funniest men in film just now, she trills. His character [in In the Loop] is one of the best performances I've ever watched. He's funny as Hell in that film but I think if you're Scottish you appreciate that so much more because of that dry, Scottish wit that people have when they just strike someone down with a sentence," she laughs.
"Martin Scorsese, I absolutely love. I've loved him since I was a kid but you think it's so far away. Once again, it comes back to luck and circumstance, but Ashley is resolute that there's much she still wants, nay needs, to do.
"If anybody had said to me five years ago I'd be in a film with Meryl Streep, I don't think I would have believed them! You never know what's going to happen. There's so much I want to do.
"I've done a bit of telly now, film, musical theatre so theatre is definitely the next on my list! God, I sound so greedy, don't I? Trying to do a bit of everything! Gotta think big!
"I've hardly done anything in the grand scheme of things!"
Headshot images © Sam Attwater
Cat Eats Dog image © Daniel Taylor