Discover more from ReelScotland
A free newsletter covering Scotland's screen and digital sector.
'We've barely seen Alex so people's opinions of her could change!' Kate Bracken Interview
Last Sunday saw a new arrival in the cast of BBC Three's cult drama, Being Human, in the shape of Scots actress Kate Bracken as Alex.
As Alex's relationship with vampire Hal (Damien Molony) set Twitter alight, we spoke to Bracken about how she found herself cast in the series, her early career and a certain vacancy in another cult BBC show...
Jonathan Melville: What's the response been like from Being Human fans since your arrival in the series as Alex?
Kate Bracken: So far so good I think. I got some really lovely messages over Twitter from them so that was a bit of a relief! I loved playing her so it's always nice to hear if people can enjoy that too. Saying that, we've still barely seen Alex so people's opinions of her could change next week. We see another side to her in the next episode; she gets quite a bit more attitude, so it'll be interesting to see how people respond to that.
How did the part come about?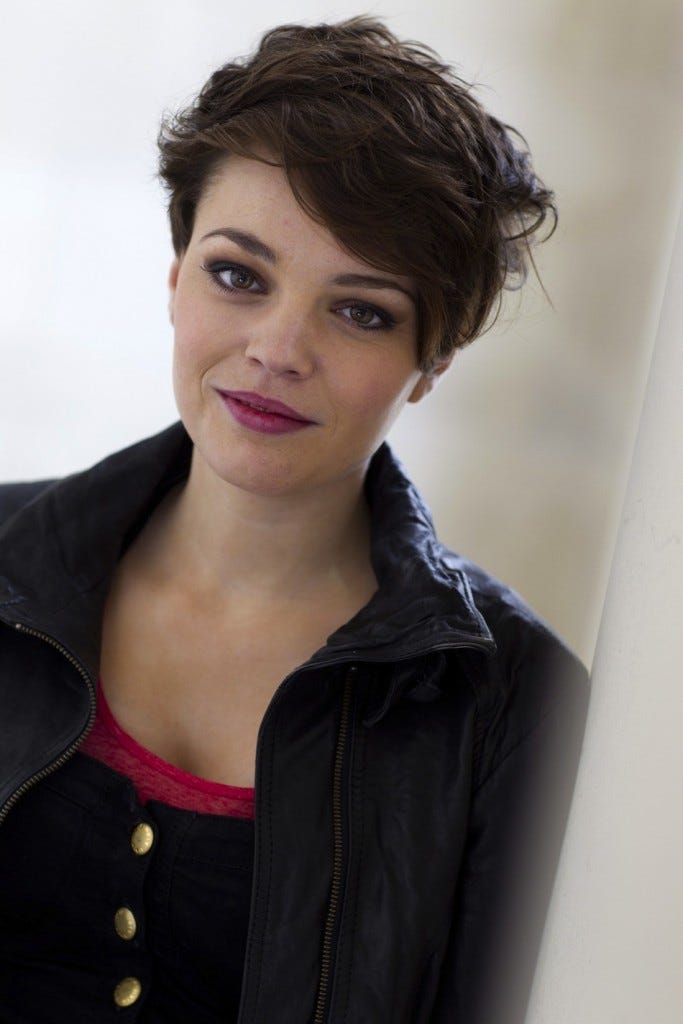 I got a call from my agent saying they had a meeting for me with the casting director, director and producer for the part. It's funny because I hadn't yet moved to London, I had just gone back home for a couple of weeks before I made the big move.
I hadn't planned to move down until the end of the week, and this meeting was at the very beginning, so I just decided to push my move forward a few days so I could get to this audition, in the hope it paid off.
I got a recall about a week later but then heard nothing for what seemed like forever! I remember being certain I hadn't got the part, so I thought I'd better go and sign on at the jobcentre, where I got told I had to do it over the phone. I was walking home from there when I got the call saying I'd got the part.
It couldn't have been better timing. I'm very glad I moved down those few days earlier!
You worked closely with Damien Molony as Hal, did you get a chance to discuss the relationship between the pair?
In the very beginning the director got me and Damien in to talk over a few points but I don't think we really talked about it in huge detail, I think we more just got down to playing it out. To be honest, the writing's so good that I think it's all there for you, you just have to hope that you're going to be able to do it justice.
The relationship between Alex and Hal develops quite a lot in episode 7…though maybe not in the way people are expecting! When I read the script for this next episode I couldn't wait to shoot it – and Damien's amazing to work opposite so it made all the Hal/Alex scenes a real joy to film.
Being Human scripts tend to veer from comedy to drama, often within the same scene. Was it tricky to get the balance right in your performance?
I can't exactly remember, I think at times there were probably moments but I don't remember any of it feeling forced though. It's been written in such a way that I think there's always a natural transition between those moments of light and dark – you can always understand where the character is coming from which makes it all flow nicely together.
You can be seen in the preview for this Sunday's episode, can you tell us anything about it?
Well, I think everyone is in trouble in this episode, in one way or another. That's all I'm saying!
According to Wikipedia, you're a "notable former pupil" of Lochaber High School in Fort William. Did you grow up in Fort William?
Are you sure?! No, but that's nice. Yeah, I grew up just outside of Fort William in what seems like the middle of nowhere. I love where I was brought up, even though I know I probably hated it at the time. It's beautiful, but not great if you want to be an actor.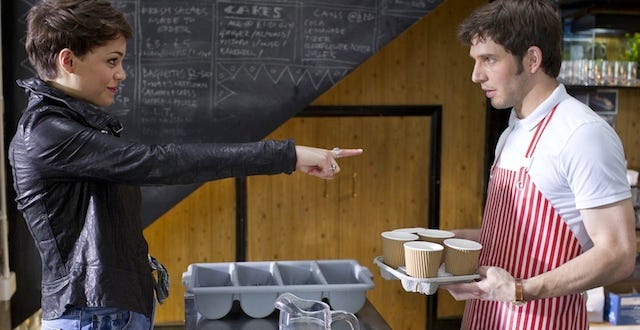 Were you into drama at school?
Yeah, massively. I mainly did it out of school though, mostly because our school didn't have drama as a subject at the time, and also because liking drama at school was basically social suicide! I went to another college most weekends for a year so I could do my Higher.
When did you decide to get into acting professionally? Where did you train?
I can't really remember exactly when, but I know I knew from really early on I wanted to do it professionally. I don't think I had a clue how, I just know that I was determined it was going to happen somehow. Looking back I was so naïve about just how tough it can be to break in to this industry so I still can't express how incredibly lucky I feel to be where I am today.
As for training, it's a bit confusing, so to cut a long story short, I ended up at Motherwell College and got my degree there. They have an amazing new course there which I hope gets the profile it deserves soon.
Being Human isn't your first TV appearance, you also starred in Inspector George Gently. What was that experience like?
IGG was brilliant. It taught me so much that you just don't learn when you're training. Being my first job, I didn't really know exactly what to expect but I remember finishing filming every day and just having that craving to get back on set and do more. I had a very different character to Alex, but she was definitely still a great part.
There were some brilliant, really tense scenes we did in a police cell which were really good to get your teeth into. I learnt a huge amount on that job so it was so nice to have had it to ease me into it all before Being Human came along, otherwise I think I would've been a total wreck!
There's a job going over at Doctor Who now that Karen Gillan is leaving - would you like to stay with cult TV and be the next companion?
If they haven't heard enough of a Scottish accent - never say never!
Thanks to Kate Bracken. Follow Kate on Twitter at @KateBracken.
Watch a clip of Kate behind-the-scenes in her first Being Human episode, Puppy Love:
You can watch Kate in the next episode of Being Human on Sunday 18 March at 21.00 on BBC Three.