Interview: Ben Miller and Johnny Harris on Huge
Award-winning comedian Ben Miller was a big presence at this year's Edinburgh International Film Festival. Not only was he on the juror panel for the Projector.tv Best International Feature award, he was also presenting the world premiere of his directorial debut, Huge.
ReelScotland writers Richard Bodsworth and Ross Maclean met up with Miller and one part of Huge's on screen comic duo, in the form of Johnny Harris, at The Stand Comedy Club in Edinburgh on the day of the film's premiere.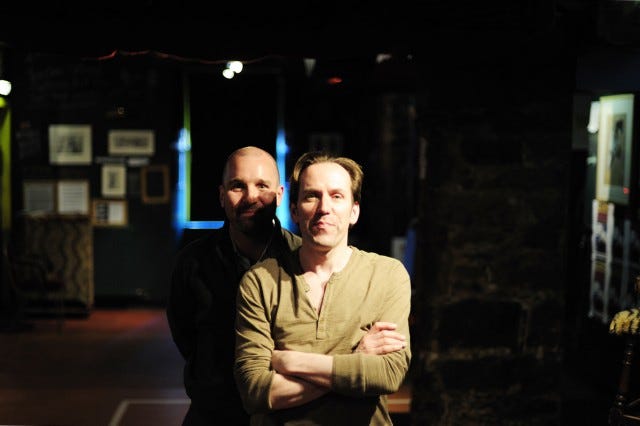 It was obvious on first meeting that Miller was an old hand at this sort of thing - relaxed, prepared, and ready to go. He even offered up some potential photo opportunities to our photographer. Johnny Harris, best known for his grittier roles, is a shadow of his on screen persona as he greeted us warmly.
The story of Huge itself follows the highs and lows of a struggling comedy duo played by Noel Clarke and Johnny Harris. With the obvious connections to Miller's own career made famous by his BAFTA-winning partnership with Alexander Armstrong in Armstrong and Miller and the casting against type of Clarke and Harris, ReelScotland were set on getting to the bottom of it all.
ReelScotland: So Huge was originally a play?
Ben Miller: Yeah that's right, back in 1993.
RS: Was there a reason you decided to make it now or had you been trying to make it for a while?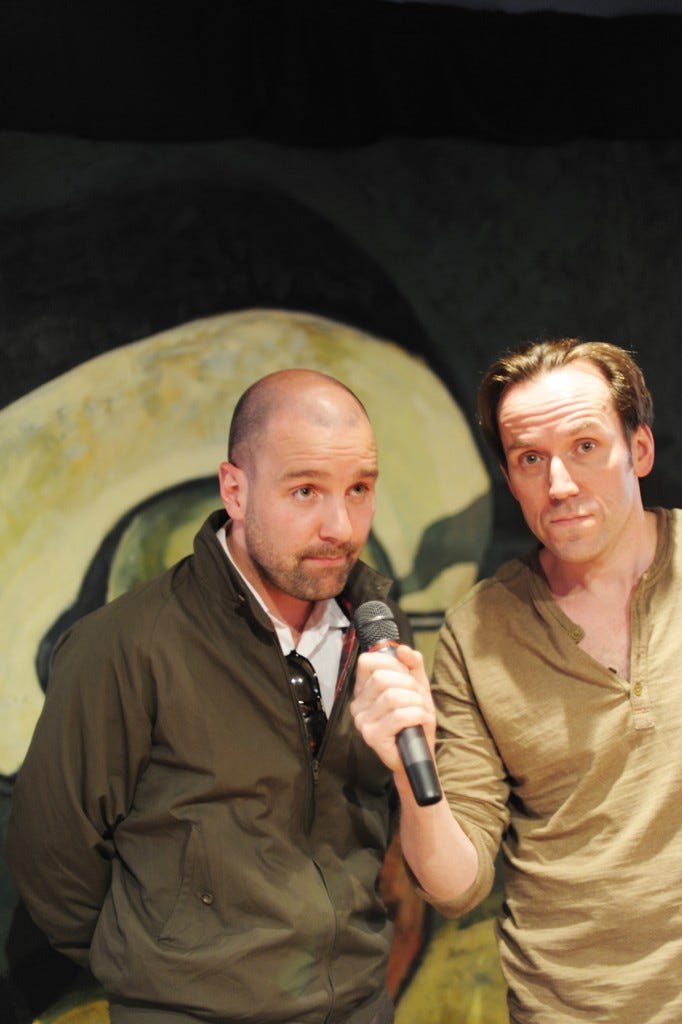 Ben: When I originally wrote the play I was trying to break in to comedy and I felt really frustrated that I couldn't get a start, which is the hardest part, I think, in any field of the arts really. Anyway, I was getting so frustrated and the guys I was doing it with, Jez Butterworth and Simon Godfrey, were kind of in the same boat - we were all trying to break in but didn't know how to do it.
So the play was kind of borne of that frustration. It was basically two guys sitting in a flat bitching about other comedians that were successful when they weren't. It had some beautiful dialogue in it and a really lovely basic story of the two of them coming together, then splitting, then one of them coming back as some kind of spurned lover after one had become successful - he then tries to convince him to get back in on the act.
I was feeling a similar frustration at not being able to get into the film business. I had wanted to direct a film and it had been on and off, on and off for ages and I just wanted to do something that I can do for myself and Huge came to mind for all various reasons really, but the most important one for me is that it really bottled that frustration really, really well. It expresses quiet desperation better than any other story I've come across.
RS: How much did the script change from the play to the film?
Ben: It did change a lot. Johnny and I worked a lot on the script for the film, we had lots of readings and lots of rehearsals. [Turns to Johnny] And to begin with I fair to say what attracted you to doing it was the original play¦
Johnny Harris: Yeah, brilliant script. Stunning. Very complex, I remember. Talking about not just the world of comedy but the building of a joke and the science of comedy if you like and I thought that was amazing and I'd never read anything like it.
Ben: But the more we did it, we were filming and taping these readings and as much as we loved the play, we began to find that it wasn't really translating and we were going to have break its bones and reset them in order for it to be a film. We all worked really, really hard on that actually but they do express the same theme. I get the same feeling when I watch the film as I used to have with the play. There's some great films from plays, you know, like Doubt, Death of a Salesman, and um, [pauses] and probably another one. But um, oh, Glengarry Glen Ross, I just thought of that one. But we didn't really want to do that, we felt we wanted to make a film and Johnny was kind enough to give hours and hours to talking about the characters and rehearsing and we kind of worked it didn't we?
Johnny: Yeah. It was basically a duologue the play wasn't it? Just one series of duologues which was great when I first read it, I was like "wow, tons and tons of screen-time," but it's not really that interesting to watch on camera - just a camera on some guy's face going through a range of emotions. You need to have places to go and that's where it evolved and slowly became more cinematic.
Ben: It was heartbreaking to take some of the dialogue out actually. We both felt it was very hard to let go of some of the great dialogue Jez wrote in the original play and neither of us wanted to let it go. It was kind of an eleventh hour thing actually. We were about six weeks from shooting before we started a major rewrite where we just cut out huge bits of dialogue and put in simple visual scenes instead. One of the things I'm most proud of is that it is a movie. It doesn't feel like a film of a play and I hope you can vouch for that?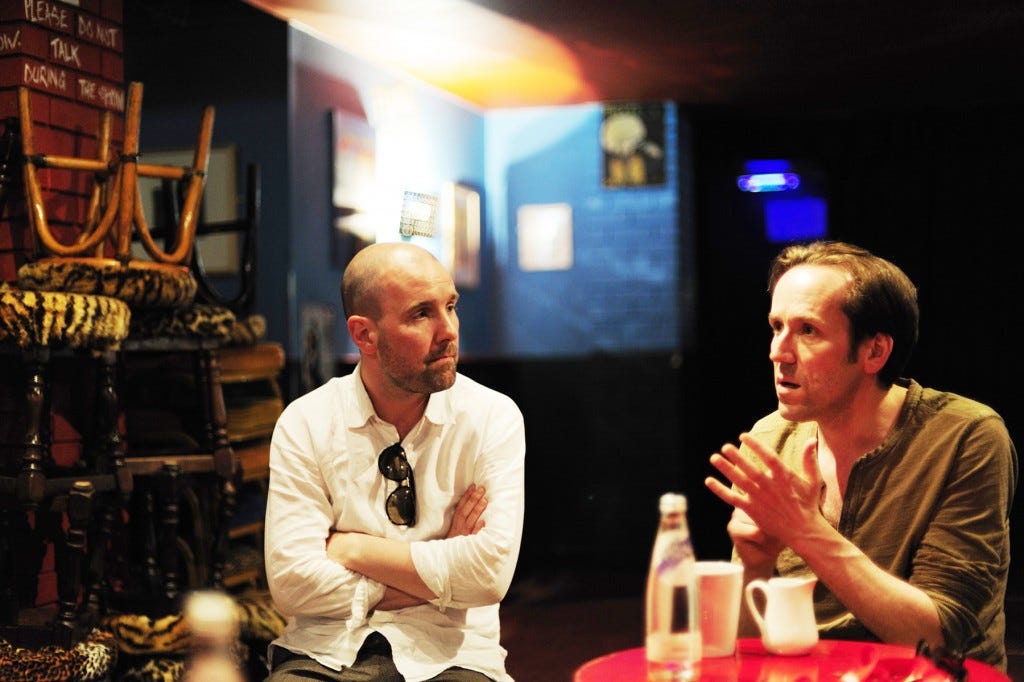 RS: Yeah, totally. I was wondering if that was the reason you cast both Johnny and Noel even though they aren't stand up comedians. Was it more for the dramatic element of the characters, which you might not have got with comedians?
Ben: It was for a number of reasons actually. One of the inspirations for this film was a film called London to Brighton in which Johnny plays, I think it's fair to say, a child prostitute pimp? Is that right?
Johnny: To quote my nan, "A gun-toting, pig pimp".
Ben: Really? "A gun-toting pig pimp"?
Johnny: Yeah, "Are you the gun-toting pig pimp?". I think she'd read it in a paper or something.
Ben: And then I watched that film and I honestly thought that's amazing, I just loved Johnny's performance. Then I watched the Q&A stuff that was on the DVD and they were talking about how they got the film together for next to no money. I got really inspired by that and I got in touch with the director, Paul Andrew Williams, and sought his advice about how to put a film together. He gave me this brilliant bit of advice which is, "Just set a date and everything will happen." So that's what we did. But I also thought Johnny's performance in London to Brighton was also very funny with some great comic timing and a comic sensibility. I just thought he'd be really funny.
The same with Noel in Adulthood and Kidulthood, ostensibly, on the surface, they appear to be gangster films but really there's a lot more going on in there and a real sense of comedy. Actually, I also heard Noel in a lift. I got stuck in a lift with Noel and he was talking with his friends and really making them laugh and I thought that was really interesting. I didn't know he was a 'holding-court, telling loads of gags' kind of guy, [to Johnny] which he is isn't he? A real storyteller.
Johnny: Yeah. Remember the cheesecake incident?
Ben: Oh yeah, yeah.
Johnny: The first time we ever met Ben together, and you've got these two kind of London gangster-type actors and within minutes we were discussing the merits of cheesecake!
Ben: Johnny goes, "I know where we can get the most amazing cheesecake, there's this great little place in South London" and then Noel goes, "My missus makes the most fantastic cheesecake, I'll bring you in some."
[Laughs]
Ben: And I'm sitting there thinking, I can't believe this! I'm talking with two hardmen of British cinema and we're discussing cheesecake. Anyway, we went out and bought some, didn't we? We got this amazing Polish cheesecake and that was kind of our first meeting altogether. So yeah, there's that reason. There's also because the two characters in the film are comedians and I didn't want the audience to be able to guess the outcome of the film. I wanted the audience thinking, Are they going to make it? Are they not going to make it?.
If the actors that had played them had ever done comedy before you would have made a judgement about whether you thought they were funny, whether you thought they deserved to make it, whether you didn't. So I felt it was really important that we had fantastic dramatic actors that weren't really known for comedy. Also, I just wanted there to be a lot of other stuff going on in the film that was only going to happen if you got people who really got into character and weren't just playing the jokes, do you know what I mean?
RS: Well that's what I got from it and what surprised me about it. I thought the performances were much deeper and there was a great chemistry between Johnny and Noel.
Ben: Yeah, I know.
RS: So I take you guys hit it off pretty well then?
Johnny: Yeah, ever since that first meeting. It's funny, we had a lovely chat, Noel and I, once we'd got to know each other we shared a dressing room at Elstree. I remember Big Brother was on so we'd be watching that and talking and Noel 'fessed up to me and said I wasn't what he was expecting when I met him. He was expecting me to come in and be all 'London', and I was expecting him to be all 'down with the kids', you know? But we hit hit off immediately and Noel's a real sort of family man.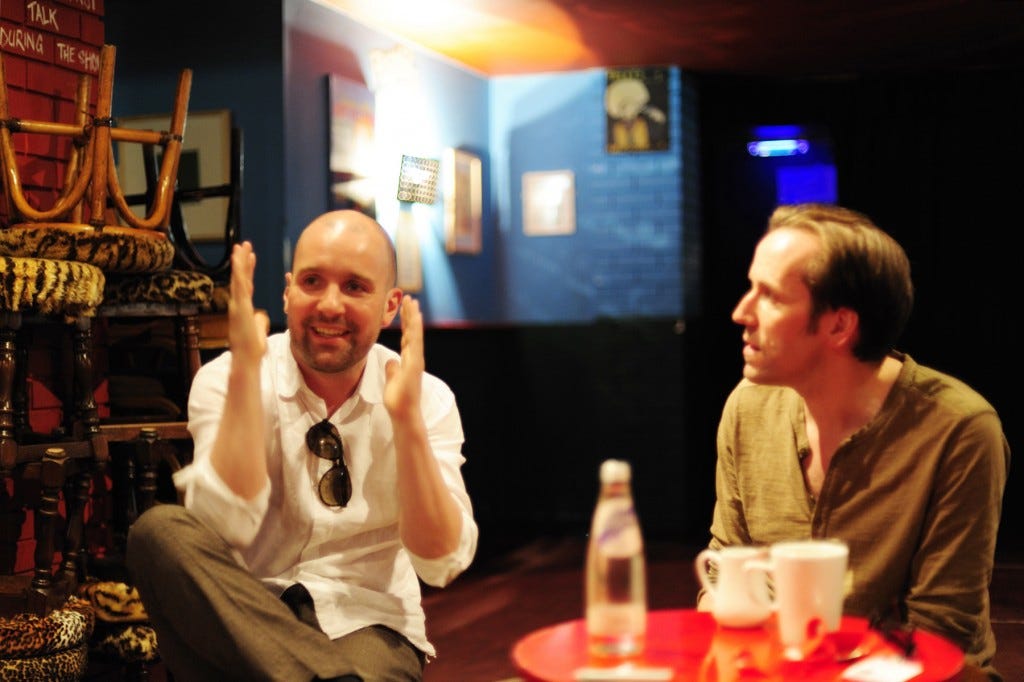 Ben: You know, it makes me laugh. Even me, I'd seen Johnny in movies and I'd seen Noel in movies and you have this impression, you know, I don't know what I was expecting but you're sort of expecting the characters you've seen in a film somehow and these two thoughtful, serious actors turn up and have these real thoughtful, serious actor conversations and you're kind of, "So, are you going to say 'blud'?".
[Laughs]
Johnny: Guv'nor.
Ben: Yeah, or Guv'nor. Are you going to say that?
Johnny: "Morning, Guv'nor." "Sweet blud, yeah."
RS: I don't know if it was pre- or post-Twitter boom, you made the film, but Twitter seems to breaking down a lot of these barriers. Obviously Noel and Ben tweet...
Ben: Yeah, Twitter was a big part of this film. All our extras came from Twitter, and I was tweeting all the time we made the film, and Noel tweets as well. [Sighs] I wish there was another word so I don't have to say that - tweet. It's not like¦
Johnny: It's not very street is it?
Ben: It's never going to work is it? But yeah, even this afternoon I was putting things on my Twitter like the next ten people to reply will get free tickets to the premiere and stuff, but you're right that sort of breaking down. The whole system is changing isn't it?
RS: We've had David Baddiel and Ricky Gervais directing films this year, is now the time for comedians to move behind the camera? Is there something in the air?
Ben: Isn't it weird that you hear there's going to be a film coming about, I don't know, basketball players in wheelchairs or something, and someone else will say, "Oh my God, Columbia is doing one of those as well!" It just seems to be film is plagued by having the same thing coming out at the same time. You can guarantee if one comedian is making a film, they all are.
I suppose these things are somehow in the ether but if you want to get a bit more analytical about it, I think comedy has finally come of age. The guys who were doing stand up in their twenties, honing gags and doing stuff, are now, like me, in their forties and starting to think a little about what they do, examine it and deconstruct it slightly. I don't think that's a coincidence.
Johnny: I think actors are doing it as well, I think it's happening. In the age of the micro-budget film it's possible to make films. You don't have to be with a studio. I think actors are getting fed up with what they are seeing or the type of roles they're being offered and just going out and making movies. Noel Clarke is a great example.
Ben: Noel Clarke is probably the example.
Johnny: The example, exactly.
RS: Just lastly, is there anything in the film that is going to make Alexander Armstrong go, "Hold on a minute"?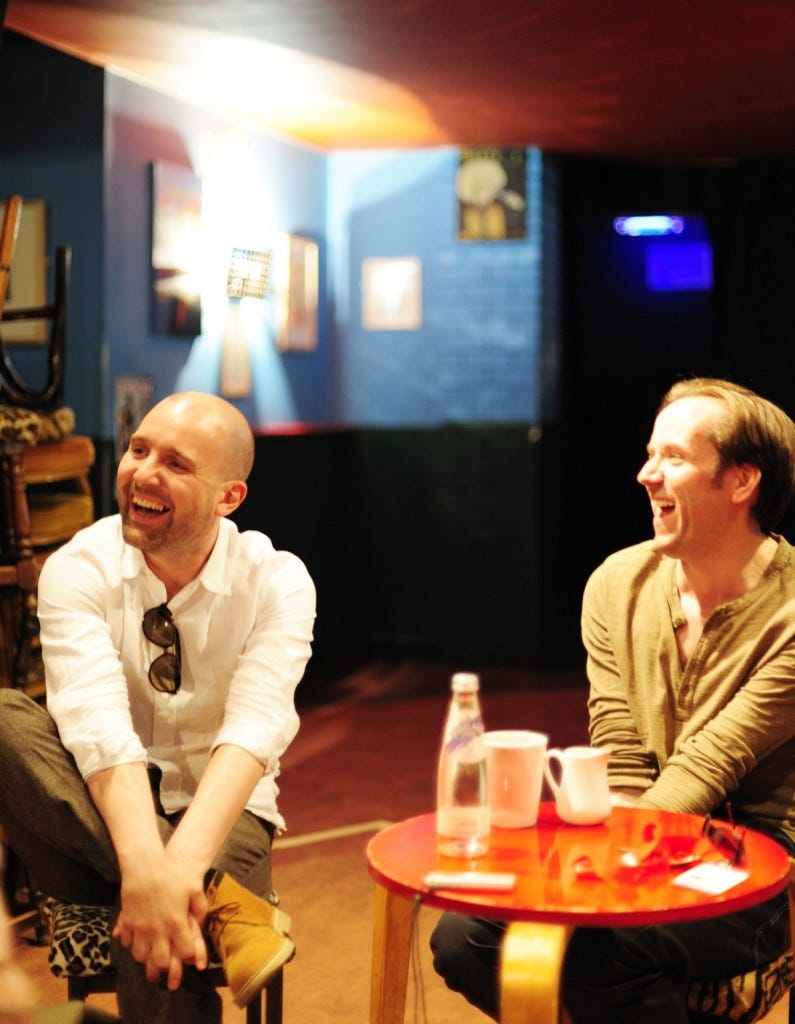 Ben: I'm a little worried because there might be something that might make one of our writers upset. As well as the double act, there's also this weird love triangle with Noel's character and another comedian called Darren. They are in a trailer talking about their stuff and they start discussing a sketch that's been sent to them and it's actually a sketch by one of the writers on our show!
I just totally forgot that I put it in the film! I'd always meant to phone and tell them, and change it, and it's being discussed in the thing and I'm thinking, They're going to see it. Is that stealing their idea in some way? They are two of our most important writers and I'm thinking, Are they going to be annoyed? Are they going to quit? I'd better get a phone call in there quick.
Johnny: Are they coming [to the premiere] tonight?
Ben: I hope not! You just think, I'll put that in because it's a true story and fictionalise it later.
Johnny: I just used mannerisms that are directly from my uncle and this uncle is an uncle I love dearly- raised me, this guy. The guy I'm playing in the film is a beast of a man, an absolute monster. He makes Derek from London to Brighton look like a boyscout. It wasn't until about halfway through I realised anyone who knows my uncle will know this is him I'm doing. The mannerisms, this is not what he has done with his life. The breathing patterns and everything are all the same, I'm thinking, I've got to have that chat with him, you know? He took it alright.
Ben: Yeah?
Johnny: Yeah, he took it alright. You're going to be fine Ben. I told him it's not a very nice man and he said, "Well none of us are all the time, boy, are we?"
Ben: "Guv'nor", he said.
Thanks to Ben and Johnny for their time.
Huge will be released later this year.
All photos © Neil Cammock.
The Stand is Edinburgh's only independent comedy club and operates a full programme year-round. For listings check out their site.