Interview: Douglas Henshall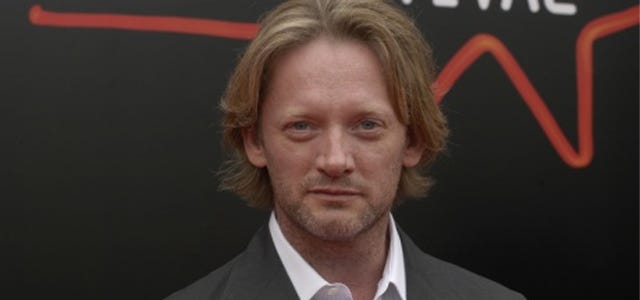 Accomplished stage and screen actor Douglas Henshall has a string of high-profile credits to his name, working with some of the best in the business in the process.
Following the completion of his latest film, Roman epic The Eagle of the Ninth, the man who got into acting to "impress a girl" talks us through his roles in Lipstick on Your Collar, Orphans and Primeval and tells us what he thinks is wrong with the UK film industry.
Following what seems to be a Scottish acting rite-of-passage by making his first TV appearance in a 1990 episode of Taggart - I think it's in your obituary if you don't appear in Taggart! - Douglas Henshall went to work on his first high profile gig in 1993 with Dennis Potter's Lipstick on Your Collar.
It was just heaven really. Dennis Potter was an amazing man to work with; he was so encouraging and so helpful and really generous with his time.
Also working on the series was another young, up-and-coming Scottish actor named Ewan McGregor. That's the first time I met Ewan, he had actually graduated early from drama school to do it. He, I and Giles Thomas were all around the same age and we had a great time together.
Next up was a supporting role in George Lucas' The Young Indiana Jones Chronicles, as T.E. Lawrence. His episodes were shaped by big writers and directors including Frank Darabont and Simon West. "The budgets on them were amazing; I think it was £1.5 million an episode which is crazy. They had some great talent in there too; George Lucas can get a lot of people to do things.
It was like a cartoon version of T.E. Lawrence, not hugely well explored, but I always thought he was a great character. It was fun to dress up in big robes and ride around the desert on horses.
When I watch it back I think, ˜I could never have acted that!"
Following performances in acclaimed films such as Angels and Insects, in 1997 Henshall teamed up with old acquaintance Peter Mullan for Orphans.
I'd worked with Peter before on a show at Glasgow's Tron Theatre which was a collection of Ted Hughes poems, but we also worked together on Jute City for the BBC, written by David Kane.
We were out in a club in Liverpool together and I remember him saying ˜I'm going to write films and I want you to be in them' and I was thinking ˜yeah, yeah, yeah', but then a couple of years later I got the script for Orphans. It was a nice moment really as it wasn't just a random conversation but he actually went ahead and did it.
So how did acclaimed actor Mullan shape up as a director? Well, Peter is an actor first and foremost. He trusts his actors, he figures you're right for the job in the first place and just lets you get on with it. He was very generous, he lets you rehearse and then works out how he is going to shoot it from that, whereas an awful lot of directors are working very much from the point of view of how things should work visually.
It's a very brave move because it's hard enough being a director with a limited timeframe so to work on the foot like that is pretty great. Another thing about Peter is he is a great writer, but he's not overly precious about the material so if something isn't working he's open to change it and that makes things much easier.
Orphans was released in 1997 to critical acclaim
Orphans is tale of a grieving family struggling to hold it together following the death of their mother. The performances across the board are fantastic, but Henshall in particular provides one of the greatest of his career.
I was in the unfortunate position that my mother had died six weeks before shooting began so I was all over the place really, a lot of method actors would say ˜that's perfect' but it didn't really work in my favour.
I found it impossible to separate the fact that I was playing a man grieving his mother while at the same time grieving my own. At one point Peter came up to me and said, ˜I'm not sure I should let you do this' but I told him I'd be fine. Afterwards I thought if I hadn't been going through that my performance might have actually been better, but when I watch it back I think, ˜I could never have acted that!'"
Around this time, a certain Edinburgh-set film appeared which took everyone by surprise. 1996's Trainspotting led the way for many Scottish films of the period, though many of them were overshadowed by the pop-culture frenzy which surrounded Danny Boyle's feature. Was Orphans a victim of Trainspotting's success?
I don't know. I don't think it was as commercially viable as Trainspotting. Regardless if it came out before or after Trainspotting it would never have done the same business because it wasn't that kind of film. But considering the budget and the content matter I think it did extraordinarily well, I mean you couldn't have written the reviews we got and it won awards at almost every level, even the Evening Standard who hated it gave Peter the Best Newcomer award. So yeah, I think it did incredibly well.
As every actor will probably admit there will always be something on their CV they would like to be expunged, for Henshall could that be Kull the Conqueror?
Oh dear God! laughs Henshall. I read that script and I thought it was really funny, I thought it was a spoof of the Conan stories. When I met the director and he asked me what I thought of the script I told him I though it was great and really funny! He was like ˜yes, but you still need to play it properly' and I was fine with that because that's how comedy is funny.
I ended up forgetting about it and they offered it to me three months later, I was skint and I thought ˜ah well, I'll go to Bratislava for a few months and it will be fun'. Then I arrived on the set and they were taking it deadly serious and playing it like it was a bloody drama and I was thinking, ˜what have I gotten myself into?!'
But then I thought it would be so bad no one will ever see it and I can spend three months in Bratislava and read a lot, but lo and behold it's on the telly all the time. It's utterly abysmal. But I suppose it's something everyone does at one point in their career.
They weren't prepared to get behind a British film just because it was British.
In the late nineties, Henshall would play the lead in a series of British films including romantic comedy, If Only, with Penelope Cruz. Unfortunately we came out around the same time as Sliding Doors which got all of the attention and we kind of got bumped.
Henshall would also team up again with David Kane for This Year's Love which, although well received by critics, was not widely recognised by audiences and failed to do big business.
That's one of the problems with the UK film industry. People manage to get money to put films together but there's no real publicity machine in this country for advertising films.
If Only had various titles worldwide including Twice Upon A Yesterday in the US. "If you can work out what that means..."
In America the budget for marketing is almost as much as the film itself but here it is virtually nil. This Year's Love was very well received and probably should have gotten more attention.
I remember one of the producers on the film saying they were trying to get some of the British tabloids behind it but they (the newspaper) were saying, ˜yeah, but is it a hit?' she's (the producer) asking what they are talking about and they respond by saying, ˜well we can't get behind something unless it's a hit' which is just fucking stupid!
"That's another difficulty, Four Weddings and a Funeral and The Full Monty both opened in the US before they did in the UK. So subsequently after the Americans made a fuss about it, Britain decided they would too. They weren't prepared to get behind a British film just because it was British. I'm not saying if the industry was better I'd be a big star I'm not saying that. I just think there are problems, not necessarily how they are made, but definitely how you market them.
Released in 2001, Henshall was brought together with Bill Nighy and Tom Hollander in the moving drama Lawless Heart, in which he played one of three men whose lives are affected by the death of an acquaintance.
That was a lovely movie. It was strange because we were telling the same story three times from three different points of view. I had no idea what kind of film we were making at the time; it was either going to turn out really well or it was going to be awful. Thankfully it worked out really well, it was well made, well shot, well acted and I was really happy to be a part of that.
It's a noble failure I think.
Acclaimed Danish director Thomas Vinterberg made the apocalyptic sci-fi/romance hybrid, It's All About Love in 2003, with Henshall starring alongside Sean Penn, Joaquin Phoenix and Claire Danes. The film, with an estimated £10 million budget, took almost five years to complete and upon its release was poorly received.
It's a noble failure I think. But from my point of view, as a creative process, it was the greatest experience I˜ve ever had on a film.
Thomas Vinterberg is a fantastic director and they had lots of time and money to make the film. Usually when you rehearse a scene the director will poke it one way or the other but Thomas always wanted you to do the opposite of what you felt was right. He would push you in directions and get you to do things that were very counterintuitive, but what you ended up doing was exploring much more interesting aspects of a character that you would never have thought of.
Sometimes I would say to him, ˜How can I do it this way if I previously did it that way? How will these edit together?' What he would say was ˜Don't worry, I have the best editor in the world.'
It became almost creature of the week and the lowest common denominator.
In 2007, ITV launched science fiction series Primeval which screened primetime on a Saturday night. Henshall took a starring role as Professor Nick Cutter, the team leader who must track down and capture dangerous prehistoric creatures from Earth's distant past. The series has a large following and is probably Henshall's best-known role: does this bother him?
That's sad isn't it? Well, no, people who know my work will know me for other things beside Primeval and the people who know me from Primeval, I'm more than happy that's what they know me for. If that's what you know and enjoy, then fine, there's a whole bunch of kids who know me from it so that's fine.
The first few scripts were great, it had a nice mixture of science and thrills. It was almost like Indiana Jones meets Jurassic Park, that was the idea. And his reasons for leaving? I think they had a year to develop those three scripts whereas they had three months to write the rest of them, so with time restraints, and I think Adrian (Hodges) was busy, the quality slipped. It became almost creature-of-the-week and the lowest common denominator.
With no interest in a return to the series, he may be interested in a film version if they did it properly but admits to having no idea about the proposed big screen outing.
Doctor Who. It's not really my bag.
As Primeval occupied the same slot on a different channel as the rejuvinated Doctor Who, comparisons between the two were inevitable, something Henshall was quick to deny at the time.
Ach, I don't really care (about the comparisons) to be honest. Doctor Who is a British institution and what I was trying to do was get away from that comparison and deflect the whole thing. What's wrong with another science fiction show on a different channel at the same time?
A few Who fans, our site editor included, always considered Henshall a great choice for the Doctor. Well first and foremost, I was never asked. But I've never really fancied it, it's not really my bag.
How I Was Stolen by the Germans will be released later this year
Due later this year, Henshall will play German officer, Werner Kraus in Serbo-Croation film How I Was Stolen by the Germans.
My wife is Croatian and we have a friend who is a producer in Belgrade and he was in London saying ˜how do you fancy coming to Serbia to do a film there?' I said ˜sure' so he sent me the script where I play a German officer in World War Two who falls for this little boy. The boy doesn't know who his father is and ends up wanting this German officer to be his dad. It's a very nice story.
I don't speak German and (director) Misa (Radivojevic) is 90% deaf and doesn't speak English, but I had a number of interpreters and everyone wanted to help. But I had a nice time, Misa is a proper auteur, it was a very creative place to work.
No hissy fits, no tantrums, he just got on with his work.
Another film due later this year is Kevin MacDonald's epic, The Eagle of the Ninth. Unlike rival film, Neil Marshall's Centurion, The Eagle of the Ninth will focus on Channing Tatum's attempts to find his lost legion's golden emblem in honour of his late father.
Not everyone is a big fan of Tatum, and there were a few groans when he was announced as the lead. I don't know why. He was lovely, a really nice guy and so down to earth with no ego at all. No hissy fits, no tantrums, he just got on with his work.
Also starring in The Eagle of the Ninth is Mark Strong, the pair are no strangers to each other having worked together on several projects over the years. Well Mark did his stuff later, up in Scotland I think, while I was in Budapest.
Following his turns in Sherlock Holmes, Kick-Ass and the upcoming Robin Hood, will his old buddy be playing the bad guy yet again? No, I think he's an old hero of the Ninth."
I have a small part, the first fifteen minutes, if that. I haven't seen it or done any ADR yet so I might not even last that long! The chief of my part is a chariot race through the forrest with Channing Tatum and I just had the best time. The chariots were amazing, for the real hairy stuff they had stuntmen, but I got to do most of it myself. I had such a ball.
So what exactly was that story about Henshall impressing a girl I hear you ask?
"I joined the Barrhead youth theatre in 1982 or 83, mainly because I used to hang out with a lot of people that were in it. I was quite shy and couldn't get it together to go myself and there was a girl who I kind of had a secret crush on, and she said she thought I would look good on stage.
"That was enough flattery for me to get it together because I thought she might like me, but then I got there and I realised it was just beacuse they needed guys! But in hindsight, it turned out I could express myself better there than I could normally."
And that as they say, is that.
Both How I Was Stolen by the Germans and The Eagle of the Ninth are set to be released later this year.
All images are courtesy of www.douglashenshall.com