Interview: Laura Fraser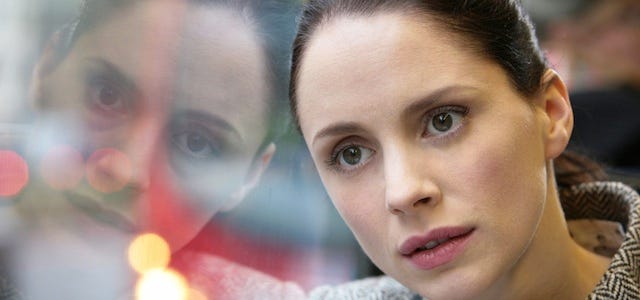 First coming to the attention of cinema audiences' in 1996's Small Faces, actress Laura Fraser has gone on to appear in a string of high profile films and TV series while avoiding the curse of typecasting.
With Fraser's latest film, Cuckoo, about to open in the UK, Jonathan Melville spoke to her about her flirtation with Hollywood and the decision to return to Scotland with her family.
Jonathan Melville: Your first major role was in Gillies MacKinnon's Small Faces in the 90s. How did you get the part?
Laura Fraser: I was still in school when a casting director and producer came looking for people to be in a BBC Two drama about the Jacobites, and I got the part.
Peter Mullan was also in that, and he asked me to be in his second short film, Good Day for the Bad Guys. From that I got a Scottish agent who put me up for Small Faces and by this time I was at the RSAMD (Royal Scottish Academy for Music and Drama) in Glasgow.
After Small Faces I left drama school and got a London agent. There was a little boom around the mid-90s, with lots of films being made, and I thought this is it then, that you'd get to do films all your life. I had no idea there would be so many ups and downs.
What do you remember about Neverwhere, your first big TV series?
I remember it really well because I'd just moved South and it was my first London job. I met a lot of new and exciting people, lots of actors I've worked with again since. It was all filmed in underground stations in London, so I got to know London underground more than I did above. At the end of every day you'd blow your nose and it would be black and you'd be covered in layers of filth.
For Neverwhere there were lots of old school English directors who talked really slowly and who were very posh, and I though that was how it was in England. I wasn't very good in that, I didn't know what I was doing and was struggling to do the English accent.
But I enjoyed making it, and Neil Gaiman, the writer of Neverwhere, was such a lovely guy. I used to go to his house, and became good friends with his daughter who was only a few years younger than I was. I entered his comic book world for a while.
You then went back to films with A Knight's Tale, co-starring Heath Ledger. What was he like to work with?
Heath was a wee sweetie, really laid back and always bouncing around and somersaulting. He was very open and inclusive. He had his little sister over and she was only three. I absolutely loved her an we became really close during that. We stayed in Prague for about five months.
There were lots of us living the high life in Prague, but bizarrely a lot of us didn't appreciate being there, whereas now I would. We'd have a whole day to shoot a scene, and now it's like 20 scenes a day.
A Knight's Tale could have opened up a lot of doors for you in Hollywood, but things didn't really go that way.
I thought it would keep going. I had no idea that the industry was in a boom period and that I was personally in a boom period. I didn't know a) that I would fuck it up, b) that I would get older and c) that things changed.
After A Knight's Tale I didn't have an audition for nine months, when I should have been taking advantage of its success. It did well and a lot of people saw it. I didn't have good American representation at the time and I was too scared to change.
Do you think things happened too early for you?
I don't think so. I don't regret things, whoever got parts I was going for good for them. I was either not in the right head space or too afraid. There was a period of time when my weight seemed to be an issue, when I was bigger than a size 12 or 14, and in America they want you to be skinny.
I think my weight got in the way of me getting jobs. Now I don't really go up and down so much.
So it was a quiet time after A Knight's Tale?
It was very quiet after that, I think the writers' strike was happening in America in 2001. Everything shut down so there wasn't a lot being made. I ended up in a TV movie of A Christmas Carol with Patrick Stewart, and a British film, Whatever Happened to Harold Smith? with Tom Courtenay.
What was Courtenay like to work with?
I only got to know about The Loneliness of the Long Distance Runner and those 60s films through LoveFilm recently, so I knew he'd been in something amazing but I didn't know exactly. Stephen Fry was also in that and I didn't ask him anything, who made God or what came before the Big Bang! That kind of thing kills me, but messing up my career doesn't.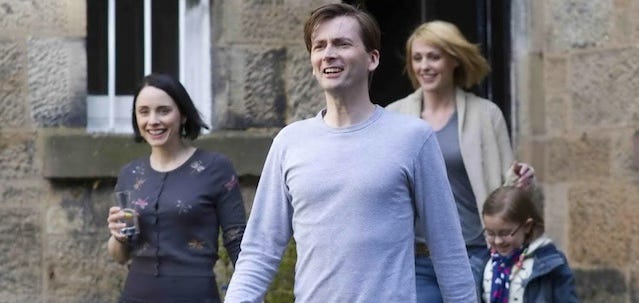 Around that time you also made Virtual Sexuality and Stephen Poliakoff's The Tribe, two quite different films.
That was around 1998 and it was when people were starting to use computers a bit more. There were a bunch of films around that time that were using virtual reality and I think I thought it would be a laugh. I can't really remember what the thought process of that 23-year-old was!
The Tribe was a TV thing. I played a peripheral character, but I was in every day and I met some nice people on that. I don't remember too much about it, except it was good fun and Poliakoff is a very fun.
You also made an appearance in Vanilla Sky.
I'd met the director, Cameron Crowe, a few years earlier after I'd gone to the set of Almost Famous because he wanted to meet me for a part in that, which I didn't get. He asked me to do a voiceover because he likes the Scottish accent and he sent me a ton of CDs and he was very sweet.
In 2003 you appeared in Richard Jobson's first film, 16 Years of Alcohol. What was he like as a director?
I loved filming that. Richard was such a force, so enthusiastic and passionate. He really inspired people around him. We shot that in three weeks in Edinburgh, and I loved working with Richard and Kevin McKidd. We did some all-nighters and we were high on life doing that.
BBC Three's Conviction is a series I remember well, though it was a bit hidden away in the schedules. How did you come to appear in that?
I was living in New York at the time and for some reason I'd gone over to London for a few weeks and was given the first script and absolutely loved it. It just affected me in a way that a lot of scripts don't do.
At the audition I met the director Mark Munden, who I'd met before, and he thought I was right for the part and we started shooting it a few weeks later in Manchester. It was a gorgeous group of guys I was working with, including Ian Puleston-Davies, who we called IPD, Reece Dinsdale and Will Ash.
Everybody was just so into the job, and the writer was there a lot and talked a lot about it. Munden's one of the best directors I've ever worked with and it was one of those jobs where we were all praying we'd get a second series because we loved it so much.
You mentioned that you were living in New York. How did that come about?
I'd done a film in Ireland and met my husband [Karl Geary] on it because he'd written it and was starring in it. He's Irish but was living in New York at the time, so after a year of a long distance relationship I moved to New York to be with him. We got married there and bought some land Upstate.
We then felt a little bit crazy and moved to West Cork. About a year later I got pregnant and decided I wanted to be back in Glasgow, and I've been here for five years.
Did real life take over from worrying about getting roles in film and TV?
I certainly lost focus on my career when I moved to West Cork. It was very cut off and we thought we'd live the country dream, with me painting and him writing but then we needed the income. I was living in Ireland when we did Casanova.
The pursuit of happiness has been the ultimate goal and the career comes and goes, sometimes I get little creative bursts or have this energy I need to create and make something and be around people which drives me to another job.
Was BBC Three's Casanova an enjoyable experience?
Casanova had a wonderful location, great script and it was fantastic working with David Tennant. The whole thing was very pleasant. The writer, Russell T Davies, is such a lovely, crazy man, great to be around.
Do you watch your own performances?
I don't watch everything but if I'm unsure about something I like to watch it so I know whether I should defend it or just enjoy it. I'm usually quite critical and unable to watch it just as another film.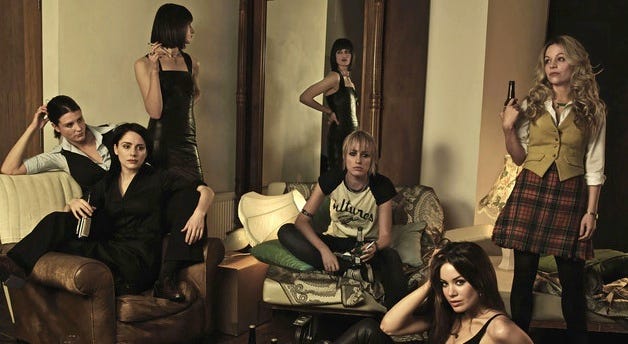 Do you enjoy working with a group of actors?
With Lip Service it was unusual to be in a female ensemble, I loved doing scenes with them. I get a lot of enjoyment out of watching what actresses do and how they interpret a scene. I really enjoyed that and it happened to be a lovely group of people.
I like imaging what it would be like if something was really happening to me. How would I feel if a certain thing had happened. I've always had different scenarios in my head or pretended to be other people, or wanted to be, so this is just a way of doing it as an adult. I love following different lines of thought and wondering "what if this had happened to me how would I react or behave?".
Your two most recent TV series, Lip Service and Single Father, were made in Glasgow. What's it been like working back home?
There seem to be a lot of productions moving up here, which is great because we've got such talented crews. It's lovely to work again with people I worked with when I was 17 or 18 and I feel proud of the talent we have here.
Making Single Father was lovely because I thought that was a brilliantly written drama that was so well performed by a largely Scottish cast and crew.
Lip Service was more cosmopolitan, drawing in English actors, but again a Scottish crew. In fact the crew on both Lip Service and Single Father were practically identical, which was nice. There's also The Field of Blood coming up on the BBC, that sounds like a really good drama, so I think things are looking up.
Was it good to work alongside David Tennant again?
It was funny working David again because I hadn't seen him since the whole Doctor Who thing had happened, so I was quizzing him about that and asking how he coped. I think he's really laid back about the whole thing.
He's handling fame really well and has got such a great sense of humour. I thought his performance in Single Father was the best I've ever seen him and I was blown away by it.
Would you like to appear in Doctor Who?
I haven't watched it for years but I'd like to be in it. It's so iconic, it'd be fun.
Your latest film is Cuckoo, a psychological thriller which can be interpreted in a variety of ways. How did you approach the script?
When I read the script, I felt it was a story about alienation. My view was that Polly was depressed and that her perspective is so warped that her fears become reality. She's created a world where everything is dark and, though everyone around her could be well balanced people, in her mind they're all feeding off her.
I kept asking the director, Richard Bracewell, questions about Polly and he said it was whatever I wanted it to be. I just made my own choices and decided Polly was in a depression and she didn't know it until the end. When I read it I thought it was horror film and then decided it probably wasn't.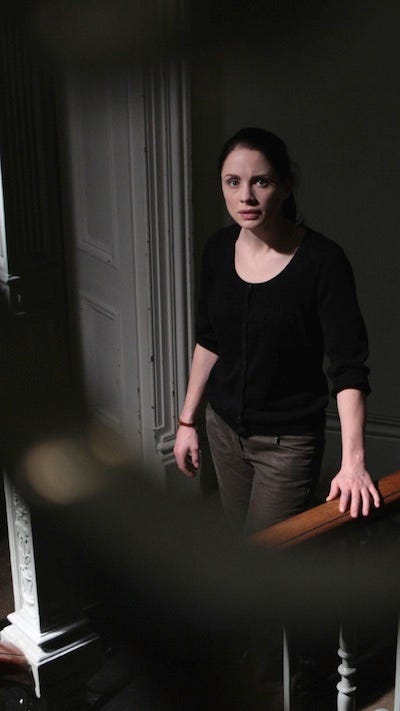 Did you audition for the part?
They asked me to read for either role and I chose Polly. I met Richard a few times to discuss it before we shot it in Norwich a few months later.
Richard was deliberately vague as he didn't want to pinpoint it to any genre. I think he trusted the actors to make decisions about their journeys and characters. He let you do your own thing. He wanted to keep me very contained and subtle, and didn't want me to show much with my face.
Is it harder to get decent drama roles now with the rise in reality TV and shiny floor shows?
Reality shows have bled the drama budgets a bit dry and there is less being made. Certain programmes that in the past would have been dramas are now docudramas, with very little budget. They can still find money for period drama but there seems to be less for cutting edge contemporary dramas.
Hopefully that will change because people need stories that have a narrative. We all need that and we'll always need that. Hopefully it will come back. There's still quality drama coming from America which has good writing. It's just a shame there's not more from the UK.
You've managed to avoid being typecast in any one role. Has that been a conscious decision?
One of the luxuries of being an actor, as opposed to being a director, is that everything doesn't have to be a choice. It would be lovely to have the choice to work only in TV or only in film, but sometimes I think my job as an actor is to work and keep working, staying alert and keep practicing and getting better. Whether that's in TV or film, I'm happy doing both.
Financially, I haven't got the luxury of only doing fantastic, inspiring TV and sometimes I've taken jobs knowing it's not a great script and I'm kind of embarrassed to talk about it later, but it's just a job really.
Would you consider moving into the production side?
I'm not motivated enough in that way. I'm not a brilliant organiser, but my husband wrote a short film and we filmed it in our house, paid for with the credit card. We also hope to make a feature film he's written. I love his writing and he writes brilliantly for women. I don't think I have the confidence to take a script and go and call people but maybe one day I will.
What about going into theatre?
I've been very scared of theatre for the last few years. The further away I get the more the terror builds when I think about it. The feeling sick every day! I do want to do it again to help confront my fears. I'm working on all my fears individually at the moment and I'll get there. While my daughter's wee I'm avoiding that commitment but might do when she goes to school.
Is there anything left that you want to do?
I want to make my husband's film. There are a few Shakespeare characters I'd like to play when I get the nerve to be on stage. Other than that I don't plan it and will see what happens. I wouldn't cope well with being recognised all the time as I'm quite a shy person. Whenever I get recognised I blush and feel ridiculous so don't think I could be in a soap operas.
When I watch famous actors it takes me a good couple of minutes to forget all the stuff that I know about them and get into it. With the great actors, within two or three minutes but other people you have that awareness of their personality and image more than the character they're playing. I certainly don't have that problem!
I've done five or six short films. I do enjoy the energy of burgeoning talent and it's good to support that, but it's odd if you respond to it if you're getting paid for it or not, something drives you to do it.
What's next for you?
You Were Perfectly Fine is my husband's short film, adapted from a Dorothy Parker short story.
There's also Flutter, which is released next year with Ricky Tomlinson, Billy Zane and Joe Anderson. It's about the Devil and gambling, quite an interesting script, I enjoyed it. We filmed it in Newcastle, but it's set in anywheresville, at some point in the last 20 years.
Cuckoo opens at selected UK cinemas on Friday 17 December. Visit the Cuckoo website for more information.