Interview: Paul Fraser returns to the EIFF with My Brothers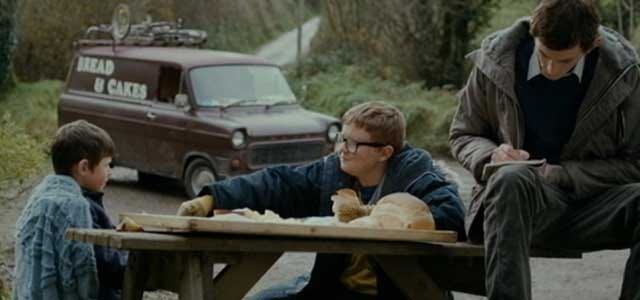 It's amazing how a seemingly insignificant event can have such an influence on the future, and on a person's path in life. During the filming of Somers Town, a film that was show at the 2008 Edinburgh International Film Festival (EIFF), director Shane Meadows injured himself falling over a kerb, and as a result of this the script writer Paul Fraser was forced to assist in the directing the following day.
Fraser, who also wrote the acclaimed Meadows film Dead Man's Shoes, cites this moment as the one which made him realise that he wanted to direct a film himself at some point. Three years later and this aspiration has now come to fruition, as his debut feature, My Brothers, receives its UK premiere in Scotland's capital at the EIFF.
I've made a few shorts over the years," Paul explains, speaking exclusively to Reel Scotland, some with mates and some with a bit of money, but generally enjoyed the life of a screenwriter " the pleasure of saying ˜good luck' to the director then watching them go through various stresses and strains.
While Fraser had a wealth of experience being on a film set, it was certainly a different challenge to be at the helm. I'd been on set for everything I had written. I'd been involved in casting, pre-production, shoots and been around for edits, so there was nothing of the unknown in terms of process. But you cannot know all the details and dynamics of directing a feature until you do it, and you cannot even get close to knowing how completely it takes over your life. But it's also insanely addictive.
In terms of the film itself, Fraser explains, My Brothers is a coming of age tale set over a Halloween weekend in 1987. It follows three young siblings as they make their way to the Irish seaside to find a replacement watch for their dying father.
"I had been working in Ireland when the script was given to me to read and offer notes on. A few drafts later I casually mentioned to the Irish film Board about possibly directing and before I could do a u-turn we had producers, some funding and were running open auditions in Cork. We shot the film in twenty days with a small budget. I had great support all around me that eased any potential transitional difficulties.
Considering his history working with Shane Meadows, and the fact the two have been close since childhood, there will undoubtedly be comparisons between them.
Shane and I were born next door to each other. We were making up silly sketches and performing them outside the local pub to get money for sweets and videos at an early age. Our stories are entwined, our backgrounds are the same and so it follows that we have lots of common ground in our stories. But right now he is one of the best directors in the UK and I am just starting, so I have a long, long way to go just yet.
It's this common ground and his childhood experiences that seem to have influenced Fraser in his decision to make My Brothers.
William Collins sent me an early draft of his screenplay. It was based on his childhood. For me, being the middle of three boys, I was taken by the dynamic of William's three main characters fighting to find their place, not only in the family, but also in the world around them. I was charmed by the simplicity of the story " much of the work we did on the script was to simplify further, to bring out the humour and ensure we kept true to the characters.
Assisting in the creation of the film was Snow Patrol's Gary Lightbody, who provided the score and soundtrack. I didn't want to load the film with 80's nostalgia. Explains Fraser. I wanted songs with the score
Gary was sent the script by Andrew Meahan from the Irish Film Board. I got an email two days later with the title song My brothers.
When he sent through the track it was perfect. I emailed back telling him we had no money, but that I loved it and he didn't seem bothered in the slightest. A stream of tracks and score came flooding in from then on in. The end song is something else. A sign of the modern world is that throughout the process I have yet to meet them face to face.
Fraser is no stranger to EIFF, and it would appear quite fitting that the city will host the first UK screening of his debut in the director˜s chair. My Dad was born on the other side of Princes Street so we came up for little camping trips now and then.
I wrote Heartlands for Damien O'Donnell (East is East) which screened at the festival. I have a feeling that most films I have been involved in have screened here, obviously being here with Somers Town was a high. So to be here with my debut is perfect.
My Brothers will be screening at the Cameo on Wednesday 22nd June at 17.45 and Thursday 23rd June at 20.15. Visit the EIFF website for more details.