Interview: Sergio Casci answers The Caller
He's written award-winning films and numerous episodes of BBC Scotland 'soap' River City? As his third film, horror thriller The Caller, has its UK premiere at the Edinburgh International Film Festival, Glasgow-born Sergio Casci sat down for a chat with Paul F Cockburn.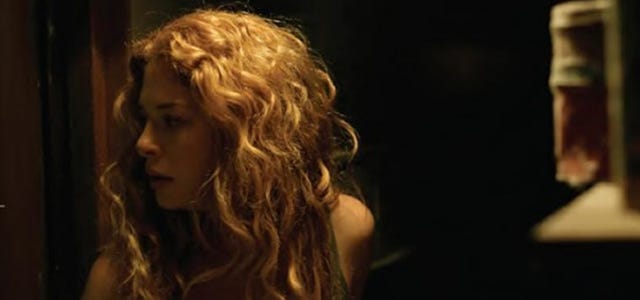 Paul F Cockburn: What's The Caller about?
Sergio Casci: The Caller is about Mary, a woman living in Puerto Rico who has recently gone through an awful divorce from a really nasty ex-husband. She moves into a new apartment on her own and finds this beautiful old bakelite phone there. One day it rings, she picks it up and she thinks it's a wrong number; then the person, Rose, phones again and again.
Eventually it emerges that she is phoning the right number but at the wrong time; Rose is phoning from 30 years ago. She wants to befriend Mary and, at first, our heroine is sympathetic but eventually gets a bit freaked out by the whole thing. Rose doesn't like being ignored, and thinks up some new and terrible and unique forms of revenge. The cool thing is, if you're in the past, you can take your revenge, not on the person the way they are today, but as they were as children, when they're not expecting it and when they're effectively helpless. So there's quite a dark centre to the film.
How did The Caller come about?
About 14-15 years ago, while I was working as a journalist for BBC Scotland, I had started to write some short films; I just had this idea one day and, as I began to think through the implications, the story almost wrote itself. If the person phoning from the past was hostile, and if they know who you and where you lived, there are so many awful and terrifying things that they could do, and the person living in the present would be utterly helpless.
I originally wrote it as a half hour drama for BBC Scotland; it went out in 1997, a short film called Rose, directed by the wonderful Don Coutts with Katy Murphy playing Mary and Alison Peebles as the voice of Rose. It got really good reviews, but I always felt that the story could be bigger. I saw it as a feature, and so I decided to write it as one, but had great trouble getting people interested until I changed the location to the United States!
It took a long time to come to fruition, but eventually it was picked up by Salt Company in London, and they set up partnerships with other production companies and, a year last December, it was shot in Peurto Rico with the wonderful Rachelle Lefevre as Mary and Stephen Moyer playing opposite her. We never planned it this way, but we have the gorgeous, sexy, charismatic leads from the two top vampire franchises (Twilight and True Blood) and their onscreen chemistry is incredible " they crackle on screen, it's like electricity, it's really amazing. They honestly light up the screen. It's a joy to behold.
You sound pleased with the film...
I'm delighted. I'm a big horror fan, but I hate most horror films, an awful lot are aimed at the young teen market. That's great, but it's easy to scare kids. It's the grown ups I want to get. Every once in a while a movie comes along which, as well as scaring the crap out of the kids, also scares the crap out of their parents. Films like The Exorcist. My hope, my aspiration, my dream is that The Caller is that kind of movie, one that scares the grown ups as well.
It's character based and, I hope, has a very strong story to draw you in. I think that it's an intelligent movie, where the audience, having gone through that visceral, buttock-clenching experience, will want to talk about it. We put an awful lot of thought into the story, into the implications of the conceit that we had. I'm really hopeful that audiences will want to go back and see it a second time.
How did you become a screenwriter?
I was always interested in writing, but when I was a kid in Glasgow, saying to your Careers Teacher that you wanted to be a writer was like saying you wanted to play for Celtic or that you wanted to have a Number One Hit: Yes, some people do, they'd say, but not you, buddy!
Journalism seemed to be the sensible option; it's writing, and real people do it. So after I left University " I studied Psychology at Edinburgh " I did some voluntary work, then got a job on a magazine called Inside Out, run by the Glasgow Association for Mental Health. After a post graduate journalism course, I then worked for some local newspapers, including the Bearsden & Milngavie Herald. Then I saw an advert for trainee journalists at BBC Scotland; I think the reason I got the job over some more experienced applicants was because, thinking I had no chance of getting it, I was very calm and confident at the interview!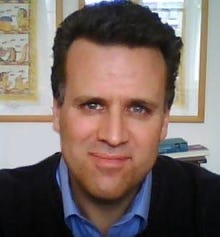 I think I genuinely had the skills to be a journalist, but not the right temperament. I think journalists have to have a little more hunger for news, that desire to be the one who breaks a story, to be the one first on the scene. So shortly after joining the BBC I began to realise that what I really wanted to do was make stuff up. So I started writing short films.
My first piece of work was a feature film; it was a European political sex comedy/political thriller farce, a description which maybe tells you why it never really got very far! It was ticking too many boxes, apart from the one which says ˜Good script, would make a watchable film'. It's in a bottom drawer somewhere, never to see the light of day.
So I thought: let's be a little less ambitious. I was very lucky; at the time, Andrea Calderwood was the head of drama at BBC Scotland; a fantastic woman, and a wonderful film maker, who was very encouraging to new talent. She commissioned a couple of my shorts, and they did well. One of them, Dead Sea Reels, won a European Short Film award. It starred the wonderful Ian Bannen, who subsequently said that it was one of his favourite roles. For an Oscar-nominated actor to say that our script was one of the very top scripts that he had ever appeared in was such a wonderful boost to my confidence.
I think I was a bit spoiled, to be honest. I began to think that what happened was that you have an idea, you write a screenplay, it gets made, you get good reviews, and then you then write another screenplay. I thought: this is great! In fact, I thought it was so great that I could give up my day job. I wasn't fulfilling my potential as a journalist, I was really loving writing screenplays, and they were doing well. So I gave up the day job. Given that the forces of irony are powerful in the universe, more or less the same week that I gave up my job, all the writing work completely dried up.
I had two children by then. My wife, the novelist Helen FitzGerald, was working part-time, so for a long time I was scrambling around just taking any writing-related work that I could. The great saviour, for me, was (BBC Scotland soap) River City.
BBC Scotland was looking for writers; they interviewed me, and I was very enthusiastic about it because it sounded like a fantastic thing for scottish drama. They took me on, and that's what saved me as a writer. I will be eternally grateful to River City for that " as, I think, many Scottish writers, actors and filmmakers are because it has single-handedly kept a lot of Scottish film and television businesses and workers going.
Not everyone rates writing for TV soap operas...
I still write for River City, and feel very lucky to be doing so. The thing about River City is that you're there to serve to show; the show's not there to serve you. When people sit down to watch an episode, they don't care who wrote it, all they care is that it fulfills their expectations, that it gives them the drama, the humour, the emotion, the laughter, the tears, etc, that they come to expect from it. The show has a certain way of doing that, and you have to fulfill that; any ego, that you might have, is quickly ironed out of you. There's no room for ego. What you have to do is write the best possible script that you can, but it has to be the best possible River City script that you can " what matters is the show.
It forces a tremendous discipline on you, which is great because a lot of writers do have ego problems. When you're working on something that means so much to so many people as River City, you soon learn a certain amount of humility. Certainly, if you want to bring elements of your own creativity " your own ideas, your own twist to things " they do encourage that, but it still has to be within the boundaries of what the audience wants, because that's what it's about.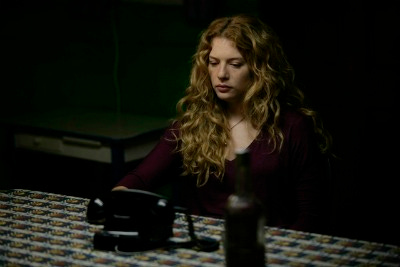 Apart from your ongoing commitments to River City, what are you working on at the moment?
I've got a few interesting projects on the go. I'm adapting one of my wive's novels, The Devil's Staircase, for a fantastic Glasgow-based company, Synchronicity Films. They're really talented, ambitious, thoughtful. It's about a young Australian girl (my wife's Australian) who comes to London, just one of the Australian diaspora that travels the world, although she has a slightly darker, more complex reason for wanting to leave Australia and come to the UK.
So, she fetches up in London, wanting to live a little, have a bit of fun in her life, and moves into a squat, which my wife did, albeit, let me stress now, without any dark reasons, as far as I'm aware, with some friends. That, of course, turns out to be a bad idea. It's looking good, and we're all very optimistic about it.
is this the first time you've adapted somebody's work?
No, I've done bits ˜n' pieces before. Every single one of them has taught me a little bit more about how to do it so, hopefully, now I'm finally getting to the point where I think I know how to do it.
You are, in a sense, reinventing the wheel every time; you will always reach the moment when you have to put the book to one side and write the film. The first time you do it, you suffer, you sweat, you bleed and cry for months on end until, eventually " when you're broken and bleeding on the floor, when everyone hates you and it's all tears and snot " you eventually realise that you have to put the book away. With more experience, you still screw up the first couple of drafts but the moment at which you realise that you have to put the book away comes a lot sooner; you see that the reason it isn't quite working is because you're trying to squeeze too much in.
Books contain many subplots and stories and characters. Films, generally, are about one thing, and when I say one I mean one. People might say you can have subplots, but subplots really have to be sub. If anything is competing for that one main through-line story, it doesn't really work in cinema. With experience, the moment comes sooner every time when you realise that you're trying to take too much across from the book, So there are fewer tears, less blood, less snot.
Surely, though, there must be some personal complications given that you're married to the original author?
I've said this before, and I'll say it again; the answer is just to be very obedient. I've learned that obedience is, by far, the best policy!
The thing is that my wife, Helen, started off as a screenwriter, and she's really smart. When it comes to screenwriting theory and structure, she's better at that stuff than I am, even though she's a novelist. She knows the theory of film writing inside out, and I often turn to her when I've got a problem with the structure of a film, because she knows the answer. So, because she has that background, she understands my problems as a screenwriter in relation to her books, and therefore she doesn't give me too hard a time!
The Caller is premiered, as part of the Edinburgh International Film Festival, at Cameo 1 on Monday 20th June at 20.00, and re-shown on Wednesday 22 June. Director Matthew Parkhill will give a talk as part of the EIFF's ˜Filmmakers in Focus' strand at FestivalHouse@Teviot on Tuesday 21 June, 17.15.