Inverness: the city with no old cinemas?
Gordon Barr heads to Inverness and takes us on a tour of the city's cinematic venues, both old and new.
I'd promised my girlfriend a nice weekend away, ideally to a place where there weren't any old cinemas I could look for. I hit on the idea of Inverness, somewhere easy to get to, a good base to go on nice walks from, and, crucially, a town that had demolished all of its old cinemas.
Or so I thought.
Much to her dismay and my delight, it turns out that for someone like myself there are always bits of interesting cinema heritage to be found wherever I go¦
My assertion that Inverness had demolished all its old cinemas would have been correct - if I'd been going a week or two later. Turns out the former Palace cinema, on Huntly Street, was still standing. This had opened in 1939, and originally seated over a thousand people.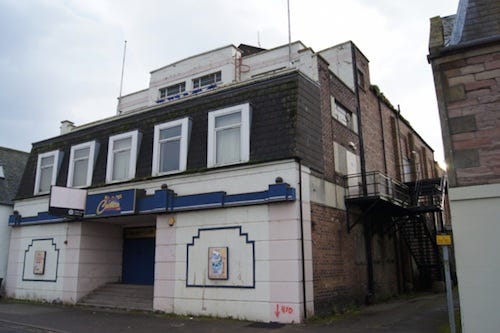 It had been a bingo hall since the 1960s, but this had closed, and permission to demolish it had been granted some time ago. I'd assumed it had already gone, but was just in time with my visit to get some photographs of the building before it gets finally flattened in the next few weeks.
I was however far too late to see the Playhouse of 1922, which had burnt down in 1972, and the Central Hall of 1912, which was demolished in 1970.
Despite this, I was keen to see the site of the former La Scala cinema, which, opening in 1913, was one of the earliest purpose built cinemas in the area. Originally designed by Alexander Ross and son to seat 1,000 in an auditorium with a 34 ft wide proscenium, it had a rather grand interior including a large tea-room and also featured a ˜writing-room' for ladies.
Later run by Inverness Picture House Ltd, before becoming part of Caledonian Associated Cinemas, it was split into two screens in 1978 to create 438 seats (in the stalls) and 255 (in the former circle).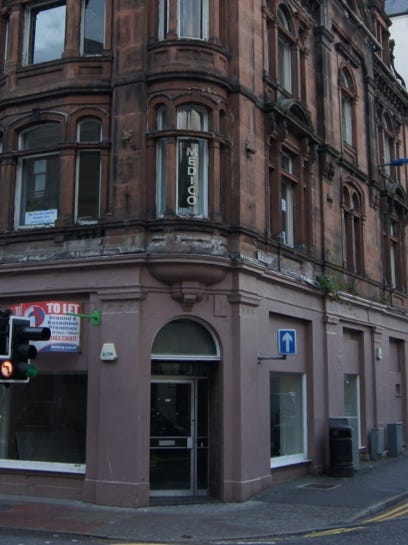 The cinema closed in January 2001, and demolition took place in January 2005 for replacement with a housing development.
According to someone that once worked there, there was "a fountain in front of the stage and a cafe on the right of the building. The three box seats on the right were open so people in the cafe could view the silent films."
At some point it had moved the entrance from a prominent corner site on Academy Street, to one further down Strothers Lane. I was delighted to find the building that held the original entrance still existed.
The entrance was now an empty shop unit, but having looked at some archive pictures of the exterior, the resemblance was unmistakable.
In particular, in its original guise as Kelso's La Scala Picture House, there was an elegant and impressive cast-iron canopy running around the corner, which was supported by a number of metal props.
Looking at more detail at the building still there in 2010, the supports for that canopy still exist - and in a delightful detail, were clearly designed as lions heads holding the struts in their mouths.
Despite the loss of (most of!) all of the original cinema buildings, Inverness' cinema heritage is however kept alive by the Eden Court complex. Eden Court's two new cinema screens, added as part of their recent refurbishment in 2007 are, in a delightful touch, and important acknowledgement of the cinema heritage of the city, named the La Scala and the Playhouse.
The main 1976 theatre at Eden Court, now itself a Category A listed building, is even named after the Empire Theatre, which had started life as the Central Hall Picture House.
It seems that remnants of cinema heritage is always to be found, if you know where to look.
Beautiful, detailed hand-drawn and coloured plans of the La Scala and the Playhouse can be seen on the excellent Am Baile archive site, while there's more on Inverness cinemas over on the Scottish Cinemas and Theatres Project website, with a new section on the La Scala recently published.
All images copyright Gordon Barr