Discover more from ReelScotland
A free newsletter covering Scotland's screen sector.
'It's a glimpse into a time capsule, an alien world': Steven Severin on scoring 1932's Vampyr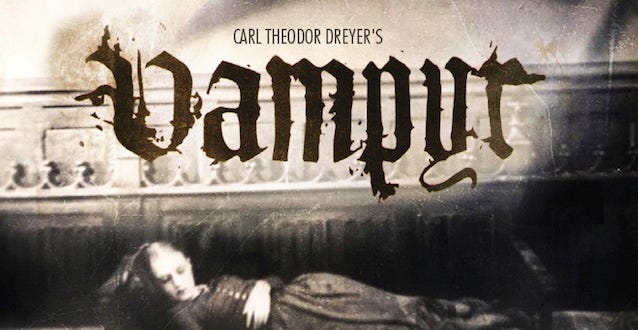 Following his 2010 Blood of a Poet tour, which saw him perform a new score to Jean Cocteau's 1930 black & white surrealist classic, musician Steven Severin returns this month with a rare opportunity to experience his score for Carl Theodor Dreyer's 1932 horror, Vampyr.
Best known as the founding member of Siouxsie and the Banshees, Severin's film scores have earned him rave reviews and the tour is eagerly awaited by both music and film fans around the country.
I spoke to Severin about his work on the new score which comes at a busy time for silent cinema in Scotland.
Jonathan Melville: Why did you choose Vampyr as your latest project?
Steven Severin:Vampyrjust seemed to dovetail really nicely with the other two films I'd previously toured with: Germaine Dulac's The Seashell & The Clergyman & Jean Cocteau's Blood of A Poet. It struck me that there was a kind of subconscious thread running through my choices namely, that of a single male protagonist trapped in a dreamworld he can neither make sense of nor escape from. So in that sense Vampyr feels like the bookend to a trilogy of work.
How long did it take to write the score?
The whole process takes months. Most of that time is spent watching, re-watching, researching and gestating. Once I know "how" & "where" to begin, the process of writing the music is very fast. Two weeks solid, probably.
What originally inspired you to start scoring silent films?
I can't remember an original spark as my desire to do this goes so far back. I saw John Cale do The Unknown and Phillip Glass do Dracula in the 90s but my interest stems from a much earlier date. I just had this dream to do it, to be commissioned but once the technology was available I decided not to wait around for the South Bank to call. That's just as well because they still haven't.
Silent film seems to back in fashion just now, with a number of classics being screened around the UK and the release of The Artist. Why do you think we're still so fascinated with silent cinema?
I think it's partly because we enjoy seeing real craftsmanship, real imagination at work. People really stretching their limitations. CGI and 3D for the most part is employed in such a lazy manner it doesn't really move us. It's also a glimpse into a time capsule, an alien world really.
Do you still enjoy touring?
Yes. I love being in different places, being exposed to different cultures, different cuisines and I really love performing my music to these films. I've learned to blank out all he tedious bits in between, thankfully. I think I must have Romany blood to still want to do it after all these years. Six months at home is about my limit then I start the anxious pacing.
Steven Severin begins his Scottish tour of Vampyr at Edinburgh's Cameo cinema on Thursday 12 January, before moving onto Inverness' Eden Court on Friday 13, Aberdeen's Peacock Centre on Saturday 14 and finally Dundee's DCA on Sunday 15. Full details can be found at www.stevenseverin.com
Related links