Producer John Archer on making BBC One's Films of Scotland
Films of Scotland is a new six-part series from BBC Scotland which is drawn from over 150 films made between 1938 and 1982, their purpose to sell Scotland to the world. Series producer John Archer tells ReelScotland how he came to be involved in the project and what viewers can expect from the programme.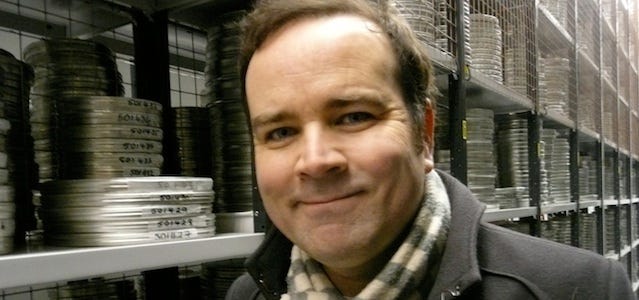 The idea must have been brewing in my brain for a while but it was a view that brought it to the surface. Driving along the A8003 high above the Kyles of Bute towards Tighnabruaich we stopped in the layby and looked down at the yachts in the loch below. Simultaneously I felt convinced I had seen the view in a film in the 1960s and that the Films of Scotland would make the basis for a great series for BBC Scotland.
I was at an English boarding school where every Saturday evening we watched a selection of free industrial films, projected by a young teacher who was also the Headmaster's son. Twice a term we were treated to a feature film. These industrial films were often about the oil industry, but sometimes there was a bit more too them than selling a product. They were the corporates of their day.
I realise now they took anything that was free. There must have been a distribution circuit. I'd not though much about them until as founding Chief Executive of Scottish Screen (now Creative Scotland) I got to know the Screen Archive rather better, and realised I had seen some of them as a boy.
I had also learned that they were made by many people who were the founders of the Scottish independent production sector " Mike Alexander, Douglas Eadie, Eddie McConnell, Murray Grigor, David Peat and Bill Forsyth among many others.
The first thing I did was speak to the Archive Curator Janet McBain, source of all knowledge for Films of Scotland, who agreed to help us with the pitch, and who was invaluable right through the production. I mentioned the idea briefly to BBC Scotland Commissioner Ewan Angus who expressed enough interest to make it worthwhile investing some time in research.
Together with Hopscotch researcher Dhivya Chetty we put together a brief pitch. Dhivya spent some time watching the 150 films on VHS and looking through the paper archives for good production stories.
Greg Hemphill on location
But the idea of a series on the documentaries, seen together as a collection, was not enough in itself. We needed a presenter who would engage with both the subject and the audience. From script development work we'd done together I knew that Greg Hemphill had studied film at Glasgow University. This gave him extra credibility on top of his engaging, winning and cheeky presenting style. We met for a coffee in Tinderbox and he was in.
Adding Greg's name to the more fully researched treatment made it an attractive package for Ewan and his enthusiasm was such that we felt confident it was worth putting together a detailed treatment. Dhivya spent some considerable time watching the 150 films on VHS and looking through the paper archives of Scottish Screen Archive for good production stories.
Pre-production started over a year ago, with director Clara Glynn having an input into the shape of the series. We began to group the films thematically. Five of the subject areas were relatively easy to settle on: the first films for the Empire Exhibition, the New Town films, Holidays, Industry and Islands.
But that left a group of rather less specific unsponsored films about artists, writers and subjects that took the director's fancy. We wanted to include these but how? That became the programme Free Spirits, a personal favourite for which we tracked down shepherd Donald MacLean who had appeared in the Loch Lomond film over forty years ago and four sisters from the Samson family who as children had featured as subjects in Joan Eardley's evocative Glasgow paintings from the early 1960s.
We began selecting clips and writing scripts, alongside interviewing the directors of the films. We took on two more researchers, Scottish Screen trainee Gill Brown and Alfred Archer, and started to include editor Cassandra McGrogan in the planning. Clara worked closely with Greg on the visual gags for the series, the touches that would we hope intrigue and engage the audience beyond the archive and memories.
Shooting with Greg was in March this year " some gloriously sunny, one or two real rain machine days " with cameraman Alastair McCormick and sound recordist Jamie Flynn as delightful company.
We're all pleased with the results. Our transmission time of 7.30 on BBC1 on Wednesdays is a vote of confidence from Ewan Angus in the appeal of the series, while we feel we have not had to compromise our approach. We have included extracts from around a hundred different films.
As the series developed the things that fell away were the internal struggles of the Films of Scotland, the political production stories. What won through were the great practical stories of production from the likes of cameraman Eddie McConnell who not only knows how to tell a great tale but also has a great sense of timing in and out of a clip.
A few things got away " we had tracked down the little boy who opens the gates at the start of The Big Mill who is now an international businessman living in the West Midlands. But we hope we have captured the essence of a production period where fine documentary films were made for the cinema to sell Scotland to the world and tell Scots themselves about their own country. Some feel incredibly dated now, but most are a brilliant record of a different time.
Episode one of Films of Scotland airs on BBC One Scotland on Wednesday 8 December at 7.30pm.