Remembering Scottish actor Gerard Kelly, 1959 - 2010
Sad news began filtering through news channels this morning as it was announced that Scottish actor, Gerard Kelly, had died at the early age of 51 from a brain aneurysm.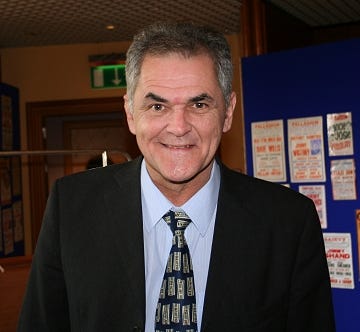 Born in Glasgow in 1959, Kelly was a well known face in Scottish theatre and television, most notably for his role of aspiring author, Willie Melvin, in 1980s BBC Scotland comedy, City Lights, and his annual appearances in Glasgow panto.
Kelly also starred alongside Rikki Fulton in Scotch and Wry, guest starred in Rab C Nesbitt and, in recent years, became known to a younger comedy audience as the camp Bunny in Ricky Gervais' Extras.
Kelly was also known for his dramatic roles, bringing him to an audience outside his native Scotland in series such as Brookside and EastEnders, while he also provided a memorable performance in an episode of the BBC's Hamish Macbeth and appeared in Ken Loach's 2004 film, Ae Fond Kiss.
The news has prompted a number of tributes on Twitter, Kelvingrove Art Gallery noting he was "undoubtedly an icon of Scottish stage & screen," the Daily Record's Rick Fulton stating he was "truly shocked about Gerard Kelly's death...one of life's good hearts. A light has gone out in Scots showbiz," while US talk show host Craig Ferguson, who starred alongside Kelly in a stage version of The Odd Couple, noted he was "shocked by the news of Gerard Kelly. A brilliant actor and a wonderful kind soul. My condolences to his family & friends. A terrible loss."
Luckily many of Gerard Kelly's performances are available on DVD (here at ReelScotland we'd welcome a release of City Lights), while YouTube currently has a number of clips of the actor in action. We've chosen three videos which give just a flavour of his talents.
First up is a sequence from City Lights, Kelly starring alongside Andy Gray as Chancer:
Next is a clip from Phil Redmond drama, Going Out, first screened on ITV in 1980:
Finally, here's Bunny in action in Extras:
Leave your memories of Gerard Kelly in the comments section below.
Image of Gerard Kelly courtesy The Scottish Music Hall & Variety Theatre Society