Discover more from ReelScotland
A free newsletter covering Scotland's screen sector.
Silents are still golden at Scottish cinemas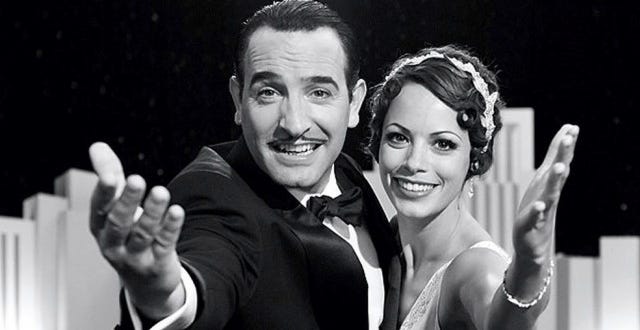 The future is in the past for Scottish cinemas this month, as silent films are celebrated with a raft of screenings and special events.
Perhaps the most impressive arrivial is Michel Hazanavicius' The Artist, an homage to silent cinema which is itself silent and tells of the rise and fall of 1920s film star George Valentin (Jean Dujardin) as the talkies arrive in Hollywood. Rather than being a quirky idea stretched out to 90 minutes, The Artist makes for a genuinely engaging and entertaining watch, one which cinephiles and casual cinema-goers will enjoy.
The number of silent film screening in Scotland has steadily risen over the last few years, with the success of 2010's inaugural Bo'ness Hippodrome Festival of Silent Cinema proving that we Scots love our classic movies (look out for the Festival's return in March).
A quick look around the listings of other Scottish cinemas shows that while Glasgow's GFT is screening Charlie Chaplin's 1925 silent, The Gold Rush, on Sunday and Tuesday, film fans in Edinburgh can get their own fix of The Little Tramp at the Cameo on Tuesday 17 and Thursday 19 January, when 1931's City Lights is shown.
Thankfully, fans of Charlie's contemporary, Buster Keaton, can watch his best known film, 1926's The General, on Thursday 26 January, also at the Cameo.
I have a soft spot for both Chaplin and Keaton, having taken a tour of their old haunts early in 2010 while on a trip to Hollywood. Excuse my indulgence as I embed the video of that tour below, but if you've got this far then it might just be something you'll enjoy...
On Tuesday 17 January, Edinburgh's Filmhouse will screen The Great White Silence, silent footage of Captain Scott's 1910 Antarctic Expedition caught on film by Herbert G Ponting and recently restored by the BFI.
Perhaps the most interesting of January's screenings is the arrival of Siouxsie and the Banshees founder, Steven Severin, with his new original score for Carl Theodor Dreyer's dialogue-light 1932 film, Vampyr.
Described as a "mesmerising synthesis of sound and image... a highly atmospheric soundscape drawing the viewer rhythmically into the oneiric imagery on screen", Severin arrives at the Cameo on Thursday 12 before moving onto Inverness' Eden Court on Friday 13, Aberdeen's Peacock Centre on Saturday 14 and finally Dundee's DCA on Sunday 15 January - full details over at www.stevenseverin.com.
The fact that cinemas are still happy to book such a specialist event while 3D and IMAX try to muscle in at the multiplexes is further proof that there's a long way to go before the talkies silence the silents for good.
If you know of any other silent film screenings in Scotland this month, let me know in the comments below.