Discover more from ReelScotland
A free newsletter covering Scotland's screen sector.
The Orange and Green Elephant In The Room
The struggle to force the eventual anti-sectarianism bill through the Scottish parliament has ensured that intolerance, with particular emphasis on the Catholic/Protestant divide, has featured regularly in the media.
It's a debate that has raged in Scottish society seemingly for as long as news reporting has existed and it is almost impossible to ignore.
Almost impossible to ignore for the public that is, since the televisual and cinematic arts of Scotland appear to find it very easy to turn a blind eye to the massive social divide that has been present for generations. Where is the cultural spotlight on this cause of so much conflict?
It can be argued that the theatre at least has made certain inroads. Des Dillon's 'Singin' I'm No A Billy He's A Tim' has been a major hit and is regularly performed throughout the country, while Hector McMillan's 'The Sash' first made an impression in the early eighties and still gets occasional outings in the theatre.
Scottish cinema however, seems to have completely ignored the issue. There is no shortage of analysis of the class and social divisions in the nation but there is an apparent reluctance to invoke any consideration of 'The Great Divide' or 'Scotland's Shame'.
Gillies Mackinnon's Small Faces is a study of Glasgow gang culture in the late sixties, yet any reference to the fact that many of those youths would have aligned themselves on religious grounds is notable by its absence. Likewise movies such as Sweet Sixteen and NEDS, which portray the challenge of growing up in the West of Scotland trying to avoid being sucked into trouble, contain no mention of an aspect of that society that has trouble running right through it.
Of course, the renowned creative team of director Ken Loach and scriptwriter Paul Laverty have produced a film that looks at the clash of religious ideals in Glasgow. Though in Ae Fond Kiss… the conflict is a relatively recent one between Catholic and Muslim families as opposed to the traditional Catholic and Protestant antipathy which has dominated Scottish society for hundreds of years.
On television, viewers no older than their early thirties could be forgiven for thinking that the sectarian issue only ever comes up in the monotonous Old Firm gags that are trodden out by Only An Excuse every Hogmanay. Before that there was the short running sketch show Laugh??? I Nearly Paid My Licence Fee in which Robbie Coltrane played the extreme bigot Mason Boyne, but it's rare to hear any mention of it these days.
[youtube id="e4SJgeHq7Q8" width="600" height="350"]
It's worth remembering though that television does have the distinction of broadcasting two major works on Protestant/Catholic sectarianism, both of which were written by Peter McDougall. The first, Just Your Luck, was directed by Mike Newell who would later find fame directing the likes of Four Weddings and a Funeral.
Telling a story which was inspired by the experience of McDougall's sister, a young couple are forced into marriage thanks to an unplanned pregnancy. This episode of ITV's Play For Today perfectly illustrated the complications caused to the engagement when it transpired that the groom was from a Catholic family and his bride to be was of staunch protestant stock.
The play may have caused uproar but it was also heralded as an exciting debut for the writing of Peter McDougall and was even favourably compared to Look Back In Anger. One of the most illuminating aspects of the play is the matter-of-fact manner in which the protagonists, namely the older generation, socialise with the other side and display many common interests while always reverting to a negative, unshakeable hostility.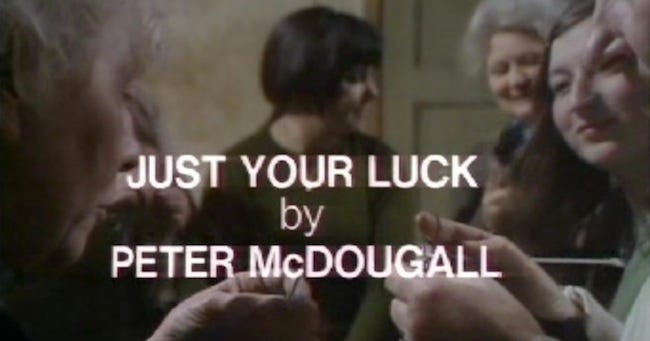 Ironically, Just Your Luck, with all its accompanying furore, was only Peter McDougall's debut down to the fact that the first play he had written was deemed too controversial to be produced. Two years later ITV and Play For Today decided to go for it anyway and Just Another Saturday was filmed.
Directed by John Mackenzie, later to find acclaim with The Long Good Friday, Just Another Saturday created uproar before even a frame was shot with one police chief pronouncing that it would 'cause bloodshed on the streets in the making and the showing' and wanted it banned from filming, never mind screening.
With unwelcome advance publicity like this, only two weeks worth of filming was completed in Glasgow before the production was shifted to Edinburgh. The first day of the shoot in Glasgow was the genuine footage of the Orange Walk on July 12th 1974, while the scenes completed in Edinburgh included the key riot in a Catholic neighbourhood.
One synopsis of the play 'It's the day of the Orange Parade in Glasgow, but for Jon, the thrill of leading the parade and swinging the mace soon turns to horror as he learns the truth behind the costumes and the songs' makes it almost sound derivative of The Wicker Man, but the story is far from a fantasy and is a hard-hitting wake-up call to many.
Jon Morrison (as John Morrison) plays the lead character, a young man so immersed in the excitement and camaraderie of the Orange Band that he fails to heed the warnings of his cynical father until a day of drunkenness, hatred and violence exposes him to the dark underbelly of all he had previously relished.
[youtube id="9aiBSZ-zUeU" width="600" height="350"]
Billy Connolly made his acting debut as one of Morrison's Catholic friends amid a cast filled with great Scottish character actors such as Ken Hutchison, Eileen McCallum and Bill Henderson. Combine this with a perfectly judged lead performance (for which Jon Morrison says he still gets recognised) and the gifted writing of Peter McDougall and Play For Today had a production that was broadcast in March 1975 to a massive audience and stunning reviews.
Such was the quality of the play that it went on to win the industry coveted Prix Italia for Best Drama and for twenty years afterwards it held the record with Cathy Come Home for the most repeat screenings of a single drama. Not bad for a film that many didn't want to get made in the first place.
Both Just Your Luck and Just Another Saturday stand up to viewing today with the latter especially lacking none of its original punch or, depressingly, relevance. And yet nothing similar seems to have followed over what is now a period of thirty-seven years. It's an astounding fact that something so socially and culturally relevant can be largely ignored. It's hard to foresee an end to ingrained bigotry when people are so afraid to address it.