Which comic will kick ass at the cinema next?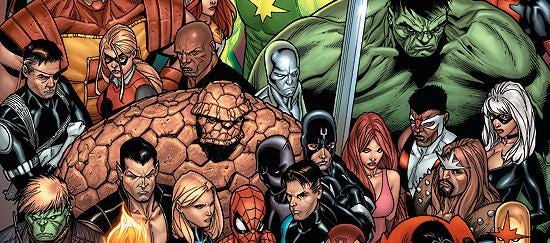 As Kick-Ass takes Scotland's cinema screens by storm, Tony Makos wonders where the contemporary Hollywood blockbuster would be without the backbone of the comics industry holding it up...and which ones studio executives might never bring to a cinema near you.
Adaptations of graphic novels and comic series have made up such a considerable percentage of cinema releases over the last 10-15 years that the two appear to now go hand in hand. Major comic book publishers like Marvel and DC have their own film studios with which to develop their franchises, while studios scour the shelves for unadapted titles and potential fortune-making franchises so far untapped.
The studio release slate for the next two years or so is full of Hollywood's next clutch of film adaptations of sequential art narratives, many of which have the potential to be fascinating. Many of them also, frankly, sound like a terrible prospect " graphic novels which are superb examples of the art form likely to be torn apart by a hack director with little vision past their next pay packet.
While we can look forward to soon seeing the big screen adaptations of popular superhero titles such as Thor, Green Lantern and Captain America, in the near future there is also the prospect of seeing how lesser known titles like Y The Last Man, Preacher, Final Orbit and Mark Millar's War Heroes are translated to the big screen.
With that in mind, there now follows my own (very) personal shortlist of the most interesting graphic novels/comic series that look unlikely to be going anywhere near a screen any time soon.
Some may be crying out for an ambitious filmmaker to turn into a cinematic masterpiece while some are likely to (and probably should) remain solely on the page for very good reasons. If you haven't read them, I urge you to do so " then perhaps you can decide which you think is which.
Civil War (2006) " Mark Millar
As superhero screenwriter Zak Penn (X2, Fantastic Four, Incredible Hulk) wrestles with Millar's The Ultimates as source material for the upcoming blockbuster Avengers movie, Mark Millar's groundbreaking Marvel crossover title Civil War touches nearly every corner of the Marvel Universe leaving it beaten and scarred.
Following on from events already partially adapted by Penn for the below-average X-Men: The Last Stand, a Superhero Registration Act forces those with abilities to register with the government as living weapons of mass destruction, causing a rift between those who side with the act and those who oppose it.
The series features a wealth of popular Marvel characters on both sides of the fence in what can be seen as fairly biting commentary on US personal freedoms since 9/11, and by the time it ends leaves secret identities revealed, heroes dead, and the Marvel Universe changed forever.
Of course, cinematically it could look great. Whether an audience is quite ready for such a shake-up is another matter entirely.
Channel Zero (1999) - Brian Wood
Social commentary as what-if?dystopian sci-fi, Channel Zero looks at America after a government act has passed removing rights to free speech. As the state and church work as one to preserve the US as a clean Christian nation, resistance appears in the form of pirate broadcasters such as anti-hero Jennie 2.5, with her own messages of non-complacency and revolution.
With its non-linear black-and-white imagery sometimes in stark contrast to the strong narration, and with some striking thematic leaps, this is a novel which begs the reader to rethink their attitudes towards contemporary culture in the way that only the best speculative fiction can.
Few studios would be brave enough to release it, and few directors would have the visual flair necessary to pull it off.
Jimmy Corrigan, the Smartest Kid on Earth (2000) " Chris Ware
Small, personal family drama writ large on the page, Jimmy Corrigan... is a story of melancholy told across four generations. At 36 years old, the titular Corrigan reunites with a father who abandoned him as a child, while his internal flights of fantasy are juxtaposed with the story of his grandfather in late 19th Century Chicago. Bleak in places, yes, but this is incredibly moving and affecting storytelling.
More importantly it's accessible, intellectual, and inextricably linked with the pages it's printed on, giving any filmmaker a near-impossible job to translate Ware's almost architectural panels to celluloid.
The Invisibles (1994-2000) - Grant Morrison
Glasgow's own Grant Morrison has an impressive wealth of work under his belt but The Invisibles is his magnum opus.
Credited with being one of the many influences on the Matrix trilogy, it tells the tale of a young Liverpudlian hooligan, recruited into a mysterious anarchist group who teach him magic and draw him into a huge multi-layered cross-historical trans-dimensional battle between Order and Chaos, featuring conspiracy theories, the occult, aliens, pop culture, philosophy, politics, religion, well...the list goes on.
Smart, fun and ludicrously over-complicated, the series is a massively ambitious, dense acid-flashback of a comic series that was very nearly a BBC Scotland TV series. Sorry, television, but if anything The Invisibles is crying out for a massive screen, a skilled screenwriter and a brave director. Oh, and a trilogy, at least.
Ex Machina (2004) " Brian K Vaughan
While his excellent Y: The Last Man finds its way to the big screen, Vaughan's Ex Machina has been described as "The West Wing with superpowers".
Mitchell Hundred accidentally becomes the world's first superhero, stops United 175 crashing into the South Tower on September 11th 2001, and is subsequently made Mayor of New York City. Our flawed hero tackles political machinations as well as his superhero responsibilities in a brilliantly written tragic tale of a man who continually struggles to accept his position while the story accurately reflects the everyday through his eyes.
Ex Machina would be well suited to a top-end US television production on a channel such as AMC or HBO, less likely to shy away from the series' more controversial and challenging material, but works so well in graphic form that perhaps it would be better left there.
Alice in Sunderland (2007) " Bryan Talbot
Almost an unfair choice. Talbot's semi-autobiographical meditation on myth and history is such a heady mix of graphic styles, fact and metafiction, and exploits the potential of the page so thoroughly that it's sometimes difficult to know how it could be portrayed in any other medium.
Talbot weaves the history of his home town with that of Lewis Carroll, together with his own fascination with the Sunderland of his youth and the sometimes apocryphal tales learned growing up. This is an incredibly beautiful object to own, to read, to absorb and to appreciate " a screen adaptation could only reveal a fraction of the experience.
Tony Makos watches too much US television and prefers to watch bad movies "so that others don't have to". Currently writing for anyone who asks nicely and crying out for a job making Charlie Brooker's tea, his Mastermind specialist subject would be the A Nightmare On Elm Street films.